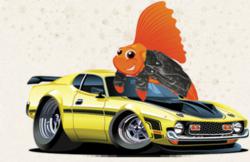 That's one hell of a golf fan...I don't know if I would have had the stomach to dig through dog puke for hours for anything.
Seattle, WA (PRWEB) April 09, 2012
RoadFish.com men's lifestyle and finance magazine today applauded a Seattle golf fan whose Masters tickets were eaten by his dog for then inducing the dog to vomit, and piecing the tickets back together before presenting them to the folks at Augusta National. Highly-coveted Masters tickets are worth thousands of dollars to folks who are not members of the exclusive golf club.
Greg Botelho of CNN reported that Seattle resident Russ Berkman was lucky enough to win four tickets to the Wednesday practice round at Augusta National in an online lottery. Due to leave early last Sunday morning with three of his friends, Berkman came home Saturday night after a quick shopping trip to find merely the strings of the precious tickets sitting on his hardwood floor. According to the CNN article, Berkman fed his Swiss Mountain dog, Sierra, hydrogen peroxide, touted as a safe way to induce a dog to throw up. Sierra did in fact puke up the Masters tickets in bits and pieces, and Berkman is quoted as saying, "I started either a CSI or a surgical type process to figure out what was going to be salvageable, if anything." He then spent hours piecing together the shredded remains of the tickets from the dog's vomit.
Ryan Ballangee of the Golf Channel reported that Berkman bagged approximately 80 pieces of the shredded tickets, which he put back together like a puzzle, managing to account for 70 percent of each ticket. Ballangee reported that Berkman contacted August National on Monday morning when they opened, and explained what had happened, requested new ticket to be re-issued. Berkman is quoted as saying, "First they said, 'Are you serious?'" But the Masters ticket office did eventually agree to re-issue all four tickets to Berkman.
RoadFish.com's Senior staff editor is quoted as saying, "That's one hell of a golf fan. I think August National should give this guy some more tickets to next year's tournament to commend his commitment and dedication. It's such a drastic measure to make sure he and his buddies got to attend the Masters, and it's totally noble. He didn't want to disappoint his buddies, and he sure as hell did not want to forego the opportunity of a lifetime on account of his hungry dog. He definitely deserves puke-free tickets for next year."
The Masters is one of the four major championships in professional golf, a tournament held every year at Augusta National Golf Club in August, GA. This year, golf greats Tiger Woods, Phil Mickelson, and Rory McIlroy will be among the contenders for the legendary green jacket, the famous prize awarded to the winner of the tournament.
RoadFish.com's Senior staff writer applauded Berkman's efforts, stating, "I don't know if I would have had the stomach to dig through dog puke for hours for anything. This guy is something of a hero. He knew what he had to do, and he sucked it up and did it. I wonder if August National would have re-issued his tickets without the pieced-together proof of the old ones? I bet Berkman's hoping the answer to that is 'no,' so his efforts weren't in vain."
The above-mentioned CNN article goes on to report that Berkman described watching the final practice round for the Masters "incredible." Inclement weather shortened he and his friends' trip, and he returned to Seattle on Thursday to what is described by a "healthy and happy" Sierra. Berkman is quoted as saying, "She's just fine. She's as happy as can be, and completely oblivious to the fact that she's famous."
About RoadFish
RoadFish.com is an online men's lifestyle and finance magazine targeted toward men in their 30's and 40's that have already attained a moderate level of success in life, and are striving toward more. It goes over current events of interest to this group, such things as exciting adventures, making money, consumer interests, hot chicks, and celebrity real estate as well as ways to make more and save more money. It is a publication owned by Purpose Inc.
###