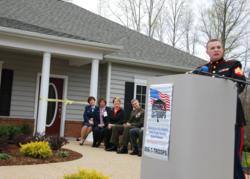 "Homes for Our Troops has been honored to be the beneficiary of Mastic Home Exteriors' sponsorship over the years," said John Gonsalves, founder, Homes for Our Troops.
Cary, NC (PRWEB) May 05, 2011
As a supporter of Homes for Our Troops since 2007, Mastic Home Exteriors® by Ply Gem recently helped the organization launch its 100th specially adapted home for a severely injured veteran, providing low-maintenance siding, shutters and accessories.
The 100th launched home, constructed in just four days in Fredericksburg, Va., was built for Marine Sergeant Kenny Lyon. Sgt. Lyon was on his second deployment in May 2006 when a mortar attack near Fallujah, Iraq left him with severe injuries resulting in the amputation of his left leg above the knee, irreversible nerve damage to his left arm and hand and a shattered jaw. He was given the keys to the organization's milestone home on April 9, 2011, at no cost, through support of Atlantic Builders, professional tradespeople, volunteers, monetary donations and product donations from manufacturers such as Mastic Home Exteriors by Ply Gem.
"It's an honor for us to partner with Homes for Our Troops and give back to the veterans who have sacrificed so much to defend our country," said Jerry Blais, vice president, marketing, Ply Gem siding group. "We're happy that we're able to provide siding that veterans, including Sgt. Lyon, won't have to worry about maintaining. It's the least we can do for all they've done for us."
Since John Gonsalves founded Homes for Our Troops in 2004, the nonprofit organization has launched just over 100 homes for veterans who have been disabled or severely injured in U.S. combat operations since Sept. 11, 2001, and has committed to building at least 100 more. All of the homes built by Homes for Our Troops are designed to be barrier free and low-maintenance, and are built at no cost to the veterans.
One of the key features of many Homes for Our Troops houses is Mastic Home Exteriors by Ply Gem vinyl siding, such as the Charleston Beaded™ 6.5 inch vinyl siding with traditional southern beaded detail provided for the 100th launched Homes for Our Troops build. The siding, backed by a V.I.P. Lifetime Limited Warranty, requires no painting or special upkeep. Other modifications made to the homes are uniquely designed based on the veteran's needs, and have included such enhancements as wheelchair accessible areas, voice-activated HVAC controls and keyless door access.
"Homes for Our Troops has been honored to be the beneficiary of Mastic Home Exteriors' sponsorship over the years," said John Gonsalves, founder, Homes for Our Troops. "Their leadership and support has enabled our organization to provide siding that offers our veterans a beautiful and, more importantly, low-maintenance exterior for their homes. In addition to product support, Mastic Home Exteriors has championed the outreach effort to help us find local volunteer contractors across the country. These efforts combined have had a tremendous impact on growing our core support base and extending the capacity of our organization to fulfill our mission."
In addition to product and monetary donations to help Homes for Our Troops build more than 20 homes per year for veterans, Mastic Home Exteriors by Ply Gem provides its distributor and contractor customers nationwide with information and tools that encourage them to also promote the cause. Through this program, participating customers are provided with regular build updates, incentives that can be used to directly give back to the organization and promotional materials to help build awareness in their local areas.
"As a veteran and a father of a Marine, Homes for Our Troops is personally close to my heart and I'm very proud to work for a company that supports this organization," said Art Brown, Richmond, Va.-based district sales manager, Mastic Home Exteriors by Ply Gem. "At the 100th build ceremonies, it was an inspiration to see the local community come together to build a home for someone who has endured so much and is truly deserving. It's also a reminder of the importance to give back. By simply being a customer of Mastic Home Exteriors, you're directly giving back, supporting our troops and paving the way to help many more veterans in need of an adapted home."
Mastic Home Exteriors by Ply Gem supports the Homes for Our Troops campaign to build at least 100 more homes for severely injured veterans, and has committed to continuing its corporate sponsorship of the organization in 2011 with donations of cash and siding products worth more than $100,000.
For more information, please visit http://www.mastic.com/HFOT or http://www.homesforourtroops.org.
About Ply Gem
Ply Gem, headquartered in Cary, N.C., is a leading manufacturer of residential exterior building products in North America. Ply Gem produces a comprehensive product line of vinyl siding, designer accents and skirting, vinyl fencing and vinyl and composite railing, stone veneer and vinyl windows and doors used in both new construction and home repair and remodeling in the United States and Western Canada. Ply Gem siding brands include Mastic Home Exteriors®, Variform®, NAPCO®, Ply Gem® Stone, Kroy®, Cellwood®, Georgia Pacific, DuraBuilt®, Richwood®, Leaf Relief®, Gutter Warrior™ and Monticello® Columns. Ply Gem also manufactures vinyl and aluminum soffit and siding accessories, aluminum trim coil, wood windows, aluminum windows, vinyl and aluminum-clad windows and steel and fiberglass doors. Ply Gem windows and patio door brands include Ply Gem® Windows, Mastic® Replacement Windows, Ply Gem® Canada and Great Lakes® Window. The company's brands are sold through short-line and two-step distributors, pro dealers, home improvement dealers and big box retailers. Ply Gem employs more than 4,300 people across North America. Visit http://www.plygem.com for more information.
###