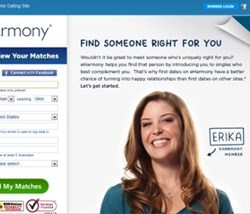 "eHarmony is the best site for people looking to find a real relationship..."
Portland, Oregon (PRWEB) January 03, 2013
A website dedicated to dating site reviews now says eHarmony is the best site for people looking to find a real relationship, while Match.com is best for people who want a cheaper option to simply find dates.
"Match versus eHarmony" the site says, "is more about what you're looking for than which site is better."
The website explains that eHarmony produces great reviews from members because of their matchmaking ability. Their compatibility test is thorough and comprehensive, the site's review says, and leads to an inventory of potential mates who are really the type of people each member is looking for.
Members like Match, the review says, because of their price and their huge pool of searchable members. "With so many members in your area, there's no way you won't find a date."
Match.com is making huge improvements in their business model also, the site explains. Match recently introduced "The Stir" which is a program that allows members to participate in events put on by the site for singles in specific areas.
"You will not be able to get in (to the events) unless you are on the guest list" the review says, "so you'll always know that the people at these events are looking for a relationship just like you."
Being a member of Match.com is also cheaper than getting eHarmony services. The site says this is another reason for potential members to ask themselves this simple question, "Am I serious about a relationship, or am I just looking to date?" They say that people who are really serious about finding a relationship will never mind paying a few extra dollars for true love.
Full reviews of Match.com and eHarmony can be found at BestDatingWebsitesReviews.com (BDWR). The site also reviews Chemistry.com and PerfectMatch.
Those who still aren't persuaded as to which website will work better for them should do a bit more research. eHarmony provides a page on their website dedicated to success stories of people who have found each other and started relationships thanks to their website. The page can be viewed here.
The success stories of eHarmony patrons are even broken down into categories like Diversity, Almost Gave Up, eHarmony Babies, Long Distance, and Single with Children.
"Reading these stories really help motivate people to sign up for eHarmony," explains one of the BDWR writers. "It's almost like a support group for people who have been waiting for love- providing them with inspiration that eHarmony can help them find what they're looking for."
Match has a similar place for people to come and get motivated. The page can be viewed here. Readers can browse the success stories based on region, category, or even keyword. The categories include Military, Single Parents, 50+, Married, Engaged, and much more. When browsing the stories people can read summaries of the successes, and even get tips from those who have found love using online dating.
The success stories sections on both websites include a myriad of images of happy couples. Some who have utilized these success stories sections before say that initially the photos of happy couples caused them to feel depressed that they were still without a partner, but after reading the stories themselves, they found greater hope and belief in the process of online dating.
On top of the dating site reviews, BDWR has a forum for people to talk to other people across the country and around the world about dating, dating sites, and other related topics. And for those who feel like they would like dating advice- the site also has a blog where experienced daters write about love, breaking up, relationships, honesty, and more.
Each week the website adds new blog posts to their dating advice section. They cover seasonal topics like dating during the holidays, and being single during the summers. Readers will be warned to be wary of Holiday relationships because the Holidays can present a sense of euphoria that can trick your mind into thinking you are more into a person than is actually true.
The posts even give advice on how to make sure your online dating profile is set up for success. Some of the tips included are to post full length pictures, leave out photos with your pets, and if you are an avid exerciser or musician- definitely brag about those things. Utilizing all of those tips are said to help online daters get more interest.
Those interested in following the posts can become fans of the BestDatingWebsitesReviews Facebook page to receive updates when new posts are added.
"Not everyone will agree with our stance on issues of romance and relationships," says one of the writers, "but that's not the point. We're making statements and sharing our opinions because we have specific experiences that we want to help people learn from. We would love to hear feedback from people about their opinions on our Facebook page."
For those looking to get the online dating experience for a less expensive price, coupon codes can also be found for dating sites like eHarmony, Match, Chemistry, and PerfectMatch at Best Dating Websites Reviews.
There is also a page at BestDatingWebsitesReviews.com where visitors can come to entertain themselves by answering dating poll questions.
"We know how hard it is to find the right relationship and do the right things once you're in that relationship," the website administrator says. "So we wanted to create a convenient place for people to come to for help in those areas. Read reviews, get advice, talk to people on the forum- enjoy your time here- and leave more fit to find your companion."