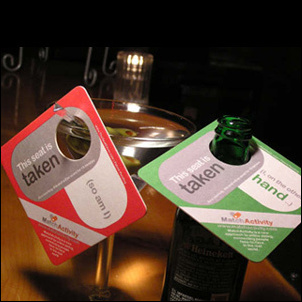 This seat is taken/(so am I).
Los Angeles, CA (PRWEB) August 22, 2006
Sometimes the newest form of communication isn't slickly high-tech, but distinctly retro. That seems to be the case at many of the hottest bars in LA, where bar patrons are using seat savers that announce to the world whether they are single or attached. One side of the coaster is green and says, "This seat is taken/ I, on the other hand..."; the other side is red and says "This seat is taken/(so am I)."
What began as a gimmick has become an unexpected social phenomenon as people have begun using the coasters as invitations to chat or warning labels to keep away. "I like how direct it is," says Greg, nursing a beer at the Henry Fonda Theatre last Thursday at the annual GenArt event. "A lot of times you'll see an attractive woman in a bar, but you have no idea if she's taken. The coaster lets you know right away."
The specially-branded coaster was developed by Yoni Avital, CEO and founder of MatchActivity.com, an activity dating online website that connects people through activities. This site allows people to meet more quickly and gives their date a structure (time and place) and context (the activity.) "The coaster really works to break the ice," says Avital. "It's also very much in keeping with MatchActivity's mission to help people meet more easily."
While men appreciate the straightforward nature of the coaster, women seem to embrace its flexibility. "If I feel like talking to guys, I turn it green side up," explains Samantha an actress sipping a Martini with her friend, Joyce, at the LAX Club in West Hollywood. "If I want to be left alone to gossip with my girls, I turn it red side up." However, Samantha admits that even displaying the red side can still prompt conversations from interested parties. "They'll ask me how long I've been in a relationship and whether it's serious or not," she says laughing and rolling her eyes.
The coaster, created by Theseatsaver.com, comes with a round hole, just big enough to accommodate the neck of a beer bottle or an olive or cherry. But preventing a drink from being prematurely tossed is only a secondary function. The real charm of the coaster comes from the colors that announce your relationship status to the world.
For more information about MatchActivity, go to http://www.matchactivity.com or call Yoni Avital at 310-741-1221.
# # #