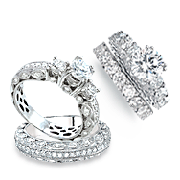 Deciding to ask that special woman to marry you is one of the most important decisions a man can make. Osborne's Jewelers would like to help make finding the perfect ring that represents your love for her as easy as possible with our online store
(PRWEB) August 03, 2011
Hopeful soon to be grooms have a new resource when it comes time to shop for [ matching bridal sets and wedding ring sets. Osborne's Jewelers, a jeweler in Huntsville, Alabama has opened their online store so anyone in the country can shop for affordable, stunning bridal jewelry. Engagement rings, matching bridal sets, and even necklaces, earrings and bracelets are available for purchase.
Bachelors looking to propose can start by browsing Osborne's matching bridal sets at osbornesjewelers.com. Website visitors can browse all options or filter by metal (yellow or white gold). Sorting by price, style number, and diamond weight is also available.
"Deciding to ask that special woman to marry you is one of the most important decisions a man can make. Osborne's Jewelers would like to help make finding the perfect ring that represents your love for her as easy as possible with our online store," states Everett Osborne with Osborne's Jewelers.
There are a variety of styles to meet any potential bride's tastes. Some rings have beautiful diamond accents, halos (square or circular), rosettes, and other beautiful and artistic designs. Matching bridal sets have bands that fit the engagement rings perfectly so the couple does not have to search for a wedding band.
Two for the price of one is a theme at Osborne's Jewelers with matching bridal sets and [wedding ring sets. Bridal sets come with two rings for one price as well as wedding ring sets with two matching wedding bands for one, affordable price. His and hers rings vary in price, as low as prices in the $600 to beautiful, ornate designs just over $1,000.
"Everyone deserves to have the wedding ring they've always dreamed of. Our rings are the highest quality but also very affordable," continues Osborne. "Anyone can afford a wedding band from Osborne's Jewelers."
To shop engagements rings and bridal sets or to learn more, visit osbornesjewelers.com.
About Osborne's Jewelers
Osborne's Jewelers has been providing beautiful matching bridal sets and wedding ring sets to the Huntsville and Athens, Alabama area for over 30 years. They are expanding their inventory to allow online shoppers the same experience those locally have enjoyed. From bridal jewelry to watches, diamonds, necklaces, and more, Osborne's has something for everyone.
###