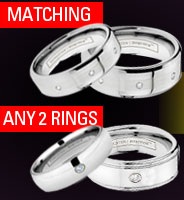 Orange County, CA (PRWEB) April 30, 2013
Couples this wedding season will be spoiled for choice with the latest offerings from TungstenWorld.com. The online wedding band retailer has launched two new categories on its website featuring cobalt and tungsten matching wedding band sets and custom engraved tungsten rings, including a claddagh ring, infinity ring, masonic ring, skull ring and more adding to the already extensive selection of the most durable and stylish wedding rings on the planet.
Already a destination for customers searching for men's wedding bands, Tungsten World's new matching wedding bands category features 10 of the retailers most popular styles, now with 6mm tungsten or 4mm tungsten matching counterparts perfect for ladies' hands. Matching wedding sets have long been a traditional practice for wedding jewelry but previously many cobalt and tungsten rings were specifically made in widths commonly associated will men's ring styles. The new thinner line of tungsten wedding bands and cobalt rings now allows couples to select matching styles both partners can agree on and in widths fitting of their preferences. In addition to now having the option of selecting matching wedding rings in varying widths, couples deciding to purchase their wedding bands from Tungsten World in matching sets will also save more by buying their rings together and using the retailers latest promotion code: SET70
"Matching wedding band sets are both traditional and a great symbol of the love couples share," says Tungsten World CEO Stephen McKenna. "In the past, we had a few styles that had corresponding pairs but with the demand for matching sets rising, we did extensive work to have matching counterparts in smaller widths for all our most popular styles. With the added benefit of the promotion, now customers can use TungstenWorld.com as a one-stop shop for both their wedding bands."
Also included in the new additions to Tungsten World's online store this wedding season, a custom laser engraved category now offers the internet's most popular custom rings. Each ring is laser engraved on site with TW's precision laser engraving machine and all designs are smooth to the touch, lasting the lifetime of the ring. In addition, all the custom laser engraved rings are made from Tungsten World's high quality domed tungsten carbide rings and covered by their extensive policies and warranty.
Among the many new custom engraved styles available, customers can choose from a custom engraved Claddagh ring with traditional Galway claddagh design, Infinity ring with the endless figure-eight infinity design and a Masonic ring featuring the classic Masonic emblem. All rings have the design engraved prominently on the exterior of the band, make great wedding or fashion rings and with more than 10 other designs available in a variety of categories, they're sure to fit any customer's tastes, no matter what their interests.
"Laser engraving is the #1 way to customize a ring," says McKenna. "Our customers have enjoyed the ability to add a personal message to the interior of their rings and now our custom laser ring category will allow them the chance to express themselves by wearing their custom design on the exterior of the ring. It's a great fashion statement, no doubt, but we've also added some really elegant designs that make unique wedding band styles as well."
In addition to the exterior custom laser designs, all custom laser engraved rings can be further customized with the traditional interior laser engraving of a message as well.
About Tungsten World's Tungsten Forever™ Wedding Bands:
Exclusive to TungstenWorld.com, Tungsten Forever™ tungsten rings and tungsten wedding bands, for men or women, are made from the highest quality tungsten carbide. Hand-finished and coming in a wide array of widths, styles and sizes, Tungsten Forever™ tungsten rings set the standard for durable men's wedding bands guaranteed to last a lifetime. Coupled with Tungsten World's industry-best Lifetime Replacement warranty and friendly customer service, customers purchasing Tungsten Forever™ tungsten rings and tungsten jewelry can be confident in knowing they've received the very best the internet has to offer.