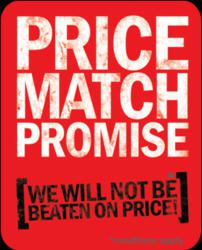 businesses that match on price do not always give the customer the best available product
Atlanta, GA (PRWEB) January 24, 2013
It seems to have become fashionable for businesses to offer price matching for products and services. While some might think this is a good for business, it is not necessarily the case. Target Corporation recently announced their new price matching policy that started over the holidays to be extended to run year-round. Target declared to match online prices with Amazon and other major online sellers in effort to combat showrooming.
Is this a good marketing strategy? Not according to retail analyst Mark Miller of William Blair & Co., "If the price matching programs attract too many shoppers, they may dent profits. Last year, Best Buy offered free shipping and discount prices at the start of the holiday season, which led to the first increase in quarterly sales in six quarters. But the tactics took a serious toll on its bottom line. Profit margins fell at its core U.S. business and quarterly earnings plunged 29%." A business might win the price war, but lose in profits.
Furthermore, matching online prices can change by the minute and prove to be complicated and time consuming. Getting items for a better price may sound good, but this can be cumbersome for the customer. More importantly, businesses that match on price do not always give the customer the best available product. The Wall Street Journal reported Walmart had several complaints filed against them alleging that the prices Walmart uses for its in-ad comparisons are inaccurate. Best Buy's complaints to the Florida state Attorney General, the two laptops in the ad were different models, so the claim in the ad "would be like comparing a Toyota to a Lexus." Lead Generation Company Accurateleads has found this is more evident in businesses that provide knowledge base information. Many companies private label products and the quality of leads is unknown.
Businesses dealing with lead generation offer email lists and contact information to companies that are trying to reach new customers. It is a highly competitive area, and some of the list providers offer to sell information at a very inexpensive rate. Unfortunately, companies and individuals that buy or rent these lists often find a great deal of worthless material. For instance, many list providers simply use software to scour the Internet for any email address and contact information possible, and put it on a list, which is then sold. This results in a list being generated that is filled with dead email addresses, as well as contact information for people and companies that have absolutely no interest in whatever it is that is being offered. Reputable email marketing vendors do not allow the email addresses to be given out. Many list vendors have huge databases of names and email addresses, but where do they come from?
The cornerstone of every business should be built on helping customers identify the best list based on quality,not price. Without knowing exactly what is being matched, a company giving the low price on a list may be selling unqualified leads with a lot of undeliverable addresses.
AccurateLeads is an authorized distributor of all major compilers and has discovered that matching price can be a very tricky method for obtaining new business. With numerous list providers offering what appear to be similar or identical products, it is very easy for clients to think they are comparing apples to apples. Taking this into consideration the final purchase then becomes more of a price issue. This provides a tremendous disadvantage to companies like Accurateleads who provides high quality data which of course comes at a higher price. The customer loses out by being under the impression that they are buying good quality data at a discounted price.
Matching price can destroy industry profits and rarely leads to a long-term advantage for anyone.
AccurateLeads is a leading provider of direct marketing services that help businesses grow their client basis. Founded in 1984, AccurateLeads has developed a unique process that helps businesses create an individualized multichannel marketing plan to stimulate growth and out brand competition.
For additional information feel free to call our toll free number: (800) 685-4787.