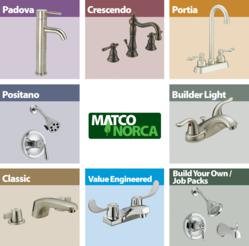 Matco-Norca's Faucet Program also offers a Build Your Own program focusing on the Classic and Builder Light product families.
Brewster, NY (PRWEB) April 27, 2012
Matco-Norca, a leading supplier of globally sourced, code compliant plumbing and PVF products, has launched a new Faucet Program comprising seven families from entry level to high end contemporary options, plus a Build Your Own program selection.
Matco's Faucet Program includes several new faucet offerings meant to fit an assortment of price points and style variations while focusing on the single-family and multi-family new construction segments. All seven families boast universal rough-in valves for all roman tubs and pressure balancing configurations, and five out of the seven families offer ceramic valve technology. In addition, all lavatory faucets and select shower heads will be EPA WaterSense certified. The Matco-Norca Faucet Program has also transitioned to a national lead free format as outlined in CA AB1953, excluding a small selection of specialty faucets.
The new Matco-Norca Faucet Program consists of:

Padova: This family provides contemporary styling with single handle and two handle options, ceramic valves and EPA WaterSense approved lavatory faucets.
Crescendo: Featuring smooth lines combined with a retro salt & pepper shaker look, Crescendo is lead free compliant.
Portia: Designed to please many tastes and provide multiple choices, Portia features lead free ceramic valve technology and EPA WaterSense approved lavatory faucets matched with a complete line of bathroom accessories.
Positano: Newly redesigned with smooth sweeping lines and unique styling cues, lead free compliant Positano provides the functionality and design that today's homeowners desire.
Builder Light: Designed with the builder in mind, the Builder Light family features ceramic valves, job packs, EPA WaterSense approved lavatory faucets and quick connect widespread lavatory and kitchen pull-out configurations, all lead free compliant as required by AB1953.
Classic: Departing from standard offerings in its category, Classic provides a complete lineup in both chrome and brushed nickel finishes and a full offering of pressure balanced tub and showers, three and four hole roman tubs, lavatories, kitchen pull-outs, bathroom accessories and job packs.
Value Engineered: Meets entry level price point without compromising quality or warranty. Value Engineered offers a complete line of matching bath accessories to complete the suite.
In addition to the above families, Matco-Norca's Faucet Program also offers a Build Your Own program focusing on the Classic and Builder Light product families. The Build Your Own program allows customers to tailor a design to meet a price point or configuration without the limitations of what comes in the box.
All Matco-Norca faucet families come complete with ADA compliant options and a Limited Lifetime Finish and Function Warranty.
Matco-Norca has a new 50-page catalog, Curves in All the Right Places, available which provides complete and comprehensive information on all Faucet Program products. To request a copy, call 800-431-2082 or visit http://www.matco-norca.com.
About Matco-Norca
Matco-Norca, headquartered in Brewster, NY, is a leading supplier of globally sourced, code-compliant Plumbing and PVF products for use in residential, commercial and industrial applications. In business for over 50 years, Matco-Norca operates four national distribution centers and select regional warehouses. http://www.matco-norca.com
###