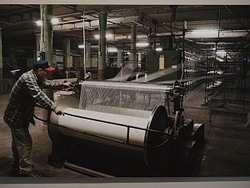 The fact they are going out of the business is sad in one sense because it means people will be losing their jobs, but on the other hand it presents a tremendous opportunity for Maine Heritage Weavers. We think our company has reached a point where we can meet the challenge and can continue to grow as we have over the past five years
Lewiston, ME (PRWEB) December 13, 2007
MH Weavers owner, Fred Lebel recently received word that one of the nation's largest manufactures of Matelasse Bedspreads is getting out of the business apparently because it cannot compete with products being produced in China and other foreign countries. "The fact they are going out of the business is sad in one sense because it means people will be losing their jobs, but on the other hand it presents a tremendous opportunity for Maine Heritage Weavers. We think our company has reached a point where we can meet the challenge and can continue to grow as we have over the past five years," Lebel said.
When Bates Mill Fabrics closed its doors shortly after the turn of the century Alfred Lebel, a Bates employee for over 50 years and former President of the company, decided it was important that he put a team together of former Bates employees and start another company. Lebel and his team have been bucking the cheap global labor trend ever since and now are adding a second shift to keep up with the demand.
The rhythmic clacking of Jacquard looms provides a visitor to Maine Heritage Weavers, Inc., of Lewiston, Maine, with the sense of going back in time. Maine Heritage Weavers is located along the banks of the Androscoggin river in Lewiston, Maine, which is the same area that the former Bates Fabrics Manufacturing mill was located. The skilled craftsmen and women of MH Weavers, all former Bates employees, are applying their trade on looms similar to those used by former Bates employees for over 150 years. The difference, they will tell you, is the matelasse and terry bedspreads, coverlets, throws, and shams they are weaving are even better then those that Bates Mill produced.
"We wanted to insure our customers that they can still buy high quality matelasse and terry bedspreads made in the USA, and we have accomplished that. Our biggest challenge is to find ways to let our former customers know that these bedspreads and associated products are still being woven in the USA by American workers," Lebel says. "We are growing every month so the word is getting out and we sense people truly do want to buy US made products. Every time I go to a major retail outlet and see inferior bedspreads being manufactured in China at a cost similar to the high quality bedspreads we manufacture, it gives me even more incentive to work harder," he continues.
Maine Heritage Weavers has design capabilities so it can weave to meet specific needs. The company also weaves a high quality horse blanket which is receiving praises from those that own and ride horses.
"Our employees take a great deal of pride in their work and they know the company will be successful because of the quality products we are producing," Lebel says with a great deal of pride.
Clacketi Clack, the looms continue as Lebel talks about the future of Maine Heritage Weavers. It is almost like the looms themselves sense the growing demand for quality USA made Bedspreads and know, as a result, they will remain in the USA and not be shipped to some unknown destination in China.
"Those who haven't heard of Bates style bedspreads should talk to their mother or grandmother, they'll know," Lebel says with a smile. "I would urge potential customers to visit the original Bates Mill Store website at http://www.batesmillstore.com to learn more about these fine products."
###