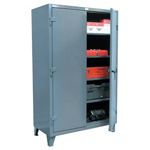 Our Costs Are Less, So We Can Sell For Less
Boston,MA (PRWEB) January 27, 2012
Materials handling is a broad term that describes many different families of related products. A Plus Warehouse is a Nationwide Master Distributor for a great many lines of materials handling equipment. A Plus Warehouse is now running a promotion that encourages customers to consolidate requests with A Plus Warehouse.
It is a known fact that customers bear the brunt of marginal costs, and benefit from marginal savings. Benefiting from marginal savings is evident when dealers "pass on the savings" Some clarification is probably in order.
Consider four families of products for a moment: Work Benches, Dock Boards, Dock Bumpers, and Storage Cabinets. In many cases, a given customer looking for a work bench because the plant is updating a loading dock may well need a dock board , dock bumpers and a storage cabinet as well. If this customer orders from four vendors , the customer experiences four order set up charges internally , executes at least four online requests, entertains twelve quotes ( 3 quotes for each of the 4 items) , and a fantastic amount of time. Compare this with ordering from one supplier. The customer has only one internal set up fee, makes only one internet search, and has one point of contact. These are the savings directly to the customer! When a dealer gets four different items, that dealer can amortize the order set up over the four items , reducing fixed cost by 75 percent for that customer. The dealer can easily pass on the savings to the customer.
Having described the economics of how the plan works, here are the details.
Too often, A Plus Warehouse handles just a piece of a given customer's requirements. Through April 2012, A Plus Warehouse is offering a five percent discount on any order with three separate item categories included. This will enable customers to experience the order set up savings, while allowing A Plus Warehouse to expand their customers' exposure to A Plus Warehouse's products. According to Ed Stairman, President of A Plus Warehouse, "Our Costs Will Be Less , So We Will Sell For Less !"
Of course, customers come to A Plus Warehouse and the http://www.apluswhs.com website for more than just great prices. A Plus Warehouse is a customer focused firm , that strives to provide value to the market. A Plus Warehouse sales people are among the very best in the trade, and will make it a point to provide a free initial consultation on whatever materials handling issue there may be.
About A Plus Warehouse:
A Plus Warehouse is a nationwide master distributor for Materials Handling
Feel free to call 800-209-8798 or email with any questions or issues.
###