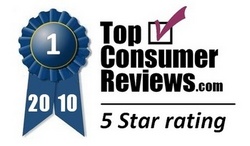 You can't beat Destination Maternity for selection, prices, and customer service
Overland Park, KS (Vocus) October 19, 2010
TopConsumerReviews.com recently awarded their highest five-star rating to Destination Maternity, an online industry leader in maternity clothes.
Shopping for maternity clothes can be a very disappointing and frustrating experience. Most large chain stores provide a very limited selection of maternity clothes. When a woman's body grows during pregnancy, they deserve to look their best and feel comfortable. In recent years, online internet shopping has become an excellent way to resolve the exasperating search for maternity clothes. In fact, many women that have turned to online maternity stores have found an abundance of attractive clothes that allow them to feel beautiful and maintain their dignity without spending a fortune.
"You can't beat Destination Maternity for selection, prices, and customer service," explained Brian Dolezal, of TopConsumerReviews.com, LLC. "In addition to a well organized and professional website, Destination Maternity supports a number of consumer-friendly features. For example, Destination Maternity offers an easy-to-read size chart to make sure you get the right fit the first time, low cost shipping, an excellent customer service team, and expert advice on pregnancy in general, Also, if you're not satisfied with your purchase, they offer returns within 45 days of purchase. Destination Maternity has earned our highest rating."
To find out more about the Destination Maternity on-line maternity clothes, including reviews and comparison rankings, please visit the Maternity Clothes category of TopConsumerReviews.com at http://www.topconsumerreviews.com/maternity-clothes.
About Destination Maternity
Rebecca Matthias started Destination Maternity Corporation from scratch out of her home with a little money and a lot of determination and drive. Now Rebecca is the president and founder of a multi-million dollar, publicly traded company. Founded in 1982 as a catalog business, Destination Maternity Corporation has grown to become the world's largest maternity apparel retailer with more than 1,000 locations. Since the time of its initial public offering in March 1993, Destination Maternity Corporation has grown as a result of the addition of new stores, the acquisition of existing maternity stores, new brands, increased sales volume and most importantly, a great group of team members!
About TopConsumerReviews.com
TopConsumerReviews.com, LLC is a leading provider of independent reviews and rankings of hundreds of consumer products and services. From debt relief and payday loans, to hgh and menopause, TopConsumerReviews.com delivers in-depth product evaluations in order to make purchasing decisions easier.
# # #