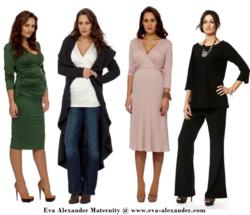 These turned out to be the best maternity pants I purchased. They were the only pair that were versatile enough to wear for both casual and dress…A great fit…and the certainly the best quality.
London, UK (PRWEB) October 01, 2012
Dressing for fall is always one of the best times of the year. After a long hot summer it feels good to pull on a pair of jeans, trade in the sandals for a great pair of boots, and pull out that favourite comfy sweater. Eva Alexander's 'Essentials' collection this season has designer maternity wear separates that inspire women to dress for their winter pregnancies.
One of the fall favourites this season is the effortlessly chic Modern Maternity Tunic paired with the Lauren maternity pant. It's an outfit that lends itself to modern elegance, an outfit that easily transitions from day to night and one that woman can wear for most occasions with a quick change in accessories. Kristen, an Eva Alexander client commented, "These turned out to be the best maternity pants I purchased. They were the only pair that were versatile enough to wear for both casual and dress, they washed and wore well, and as my pregnancy progressed, they were the only pair that didn't fall down. A great fit, excellent value for money, and certainly the best quality maternity wear I purchased."
The maternity dresses this season are also coming out in a new range of rich autumn colours from bordeaux reds and dusty pinks to deep teal blues and smoky charcoals. The classic wrap maternity dress in bordeaux red has turned out to the be the must-have maternity dress for the season. It's a favourite because it looks great on just about every woman's figure and has an understated elegance about it. Made out of a gorgeous woven viscose that drapes beautifully and has the touch and feel of silk, every woman will enjoy the luxury of wearing one of these maternity dresses this season.
The most notable creations in Eva Alexander's 'Essentials' collection is their stylish range of separates made from fabrics that maintain their look and feel throughout pregnancy so that when a woman wears Eva Alexander she looks just as good in her 4th trimester as she does the first time she puts it on. This range was developed for the 'Essentials' collection because Eva Alexander wanted to create maternity clothes that were stylish and sophisticated, but also durable. The styles are brilliant because the fabrics do not pill, are easy to wash, and the colours never fade. When a woman is buying pieces for her maternity wardrobe, it's the essentials that are the most important because they are the pieces that are worn every day. They get the most wear and they really need to stand the test of time. The favourites this season are the ruched midi maternity dress, the faux wrap ruched maternity top and the Sophia jersey skirt.
Eva Alexander launched its online maternity wear boutique at http://www.eva-alexander.com in January of 2011, and has quickly become one of the trendsetters in maternity wear fashion. The creation of stylish maternity designs that combine figure flattering silhouettes, modern lines and smart tailoring with luxury fabrics and quality workmanship has been received with rave reviews. With a clientele that ranges from professionals and executives to style savvy fashionistas and a celebrity following that includes the likes of Sienna Miller, Eva Alexander has been embraced internationally and continues to grow from strength to strength. With three iconic collections: Essentials, The Office and Twilight Beauty, a woman is always fashionably dressed for any occasion during her pregnancy.