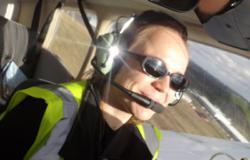 Providence, RI (PRWEB) June 17, 2013
Maternova Research, a newly formed non-profit affiliate of the award winning Maternova, Inc., is partnering with Flight for Every Mother (FFEM) to amplify the voices of clinicians battling maternal mortality in 24 sub-Saharan African countries. By joining forces across the Atlantic, these two non-profit organizations are aiming to raise awareness and deliver life-saving medical devices and training to some of Africa's poorest countries.
This innovative partnership was the idea of Maternova CEO Meg Wirth, who contacted FFEM's Dr. Webster in early 2013. "There is no other group able to cut through the bureaucracy and make immediate impact quite like Dr. Webster's team. We're thrilled about the potential this partnership has to speed up implementation of innovative ultra low-cost technologies." Dr. Webster is an obstetrician who has also developed a passion for flying her Cessna to remote locations. She will be delivering key medical devices and imparting critical obstetric skills to over 40 locations in sub-Saharan Africa.
Childbirth is still the leading cause of death for women in many countries around the world. Simple solutions and skills can save lives. Yet many groups in need find themselves in long lines waiting for even minimal assistance accessing key technologies. Ultra low-cost innovations can improve patient outcomes while being a better cost alternative. Together Maternova Research and Flight for Every Mother will be testing and reporting on the optimal low-cost lightweight package of tools and training needed by frontline providers. This campaign will be delivering revolutionary inventions like the Non-Pneumatic Anti-Shock Garment (NASG) to arrest postpartum hemorrhage, handheld ultrasound units, and even solar powered lighting all available through Maternova.
The Non-Pneumatic Anti-Shock Garment is gaining worldwide attention, and has been highlighted at several global conferences. Bearing a resemblance to the wetsuit, the device is being hailed as a breakthrough intervention which will prevent thousands of women from simply bleeding to death after childbirth. Dr. Webster added "Massive hemorrhage is one of the three main causes of maternal death in sub-Saharan Africa. Often women who are bleeding heavily are transferred long distances to health facilities where blood transfusion and surgical care are possible. The Non-Pneumatic Anti-Shock Garment is groundbreaking in making such journeys safer."
So often, international agencies and aid groups become the voices of frontline providers. "We would like to hear directly from the obstetricians and midwives about which innovations and skills they need most. And we'd also like to hear specifically what procedures they use locally that might be of interest to those in neighboring countries," says Maternova Vice President Allyson Cote.
Advocates, donors, and those who would like to find out more information are encouraged to contact Maternova Research through the Maternova website to learn how to become involved.The campaign will continue throughout Dr. Webster's journey bringing photos and video via social media to draw attention to issues and perspectives unique to each country.
Maternova Research is a non-profit organization speeding the dissemination of life-saving innovations and protocols in maternal and newborn health. The group researches end user needs and feedback on ultra low-cost innovations in maternal and newborn health. Contact Allyson Cote via email allysonecote(at)maternova(dot)net to find out how you can help.
Flight For Every Mother is a project created and led by UK-based Obstetrician Doctor Sophia Webster (MRCOG). Together with her team, she will pilot a Cessna via 24 African countries with frequent stops to enable visits to local medical and midwifery units providing care to pregnant women. In each unit, Sophia will facilitate practical, scenario based and labor ward teaching on the 3 main causes of maternal death in sub-Saharan Africa: massive bleeding, serious infection and complications associated with very high blood pressure. The team will also visit local schools, and hope to stimulate discussion in each country about the factors which influence the health of women.