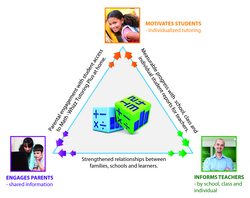 Imagine if we could have a digital tutor that could help a student catch up two grade levels in a year.
Seattle, WA (PRWEB) March 25, 2011
For most children math and fun don't add up. But that equation is changing thanks to an online math program that hundreds of U.S. schools are using, Math-Whizz Tutoring Plus. The designer of the program, Whizz Education, has won the prestigious Education Resources Award (ERA's), Innovation award for creating a "fun and engaging interface to make learning math easier for kids," according to the panel of independent judges, most of whom are teachers. The award spotlights companies that demonstrate imagination, innovation and inspiration in the design and/or service of an educational resource.
"We are delighted that ERA has recognized Whizz Education's original approach to raising math achievement for elementary and middle school children," said Whizz Education CFO Ray Douse. "We will continue to bring teachers, children and their parents together in a collaborative and interactive environment that is conducive to learning."
This recognition was received only two weeks after Arne Duncan, US Secretary of Education, said in address focused on using technology to improve education, "We believe the potential in the education space is amazing. Imagine if we could have a digital tutor that could help a student catch up two grade levels in a year." Math-Whizz Tutoring Plus is helping children in the U.S. and across the world realize these gains.
In its thirteenth successful year, the Education Resources Awards are organized by BESA, the trade association representing educational suppliers in the UK sector, and Brilliant Marketing Solutions Ltd. The ERAs honor the quality and diversity of educational products and resources, educational establishments and the most dedicated members of the industry.
About Whizz Education
Whizz Education, Inc. the designer of the Math-Whizz Suite of services, is the leading provider of online math instruction for children ages 5 to 13 and instructional resources for elementary and middle school teachers. Our goal is to ensure that all children have access to the highest quality math instruction possible to give them the foundation they need to be successful in school and in life. Whizz Education is raising math achievement for children in over 40 countries by offering personalized, meaningful instruction that engages and motivates students, and by creating a shared learning community for teachers parents and students through Math-Whizz. For more information about Whizz Education, Inc. and the Math-Whizz suite of services, visit http://www.whizz.us.
###