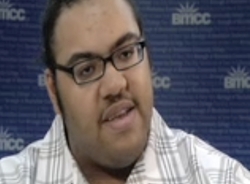 One day I hope to be in a team devoted to the mathematical modeling and mapping of the entire human brain
New York, NY (Vocus) June 29, 2010
Daavid Moseley, a BMCC science major just won 1st Place in the Community Colleges/Technology division of the 2010 Collegiate Science and Technology Entry Program (C-STEP) competition, for his evaluation of Gaussian integrals. Xianzhen "King" Zhu, a BMCC math major just won 2nd Place (and $2,000) in the citywide CUNY Math Challenge.
What the two young men have in common, is an appreciation for both math and science, though they've chosen one or the other as their major.
Moseley, who was born in the Bronx, lives in Harlem and was home-schooled from the age of 11. He wants to major in neurobiology someday, and do research in both math and biochemistry. Zhu moved to New York from China just a year ago, and in addition to studying math, dreams of inventing an affordable notebook computer.
Zhu is also part of BMCC's robotics workshops. "I have an interest in making robots, in electrical stuff and how computers work," he says. "To design something, you have to know math," he adds, and explains that invention can't happen without calculations; that numerical data looms large because "in engineering, a lot of people care about efficiency."
Moseley began his studies at BMCC as a science major, then switched to math. "Despite this choice," he says, "I didn't want to lose my roots in the sciences…I learned that both subjects intertwine with the modeling of chemicals or disease epidemics." Another inspiration was BMCC professor and bioMathematician, Nadajarah Kirupaharan. "One day I hope to be in a team devoted to the mathematical modeling and mapping of the entire human brain," Moseley says.
When his shift as a math tutor at BMCC ends, Moseley takes a walk across town to relax playing the Mott Street arcades in Lower Manhattan. Zhu, who already spent a large chunk of his Math Challenge prize money on a round ticket to visit China, also works as a BMCC math tutor, as well as a counter person at a nearby Subway restaurant, where math and science persist in cash register calculations and heat's effect on cheese.
Borough of Manhattan Community College (BMCC) enrolls over 22,000 degree-seeking and 10,000 Continuing Education students a year. The largest community college in The City University of New York (CUNY) system, BMCC has students from more than 155 countries, and awards associate degrees in over 27 fields.
# # #