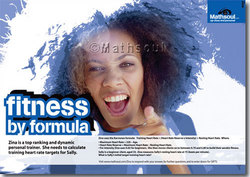 they have been created to engage students emotionally. And once engaged, to then guide them to the energizing realisation that learning math today, is likely to benefit them greatly - whatever family and society roles, and occupations they take up during their lifetime
(PRWEB) August 26, 2008
A national on-line auction of new school math posters attracted very intense student bidding. All the math posters featured eye-catching images of named young adults, and a story snippet about them using some aspect of classroom math to help them succeed in their later work life.
If you think that these math posters must be quite different to what you had (or have) on your classroom wall at school or college (or home school), then you are almost certainly right. They come from a new range of math posters, called appropriately enough My-Story posters, recently released by Mathsoul.
David Brown, founder of Mathsoul Math Posters, said that the purpose of these My-Story™ math posters is not to teach math. Instead, "they have been created to engage students emotionally. And once engaged, to then guide them to the energizing realisation that learning math today, is likely to benefit them greatly - whatever family and society roles, and occupations they take up during their lifetime".
Most popular at the auction were two copies of the Zina, Fitness by Formula Mathsoul math poster, won by Duncan with a Maths$7,856 bid, and by Hannah with a Maths$5,500 bid. In third place was the Razi, Ensuring Competitive Behaviour math poster won by Sean for Maths$4,000.
Other My-Story math posters reaching over Maths$3,000 were; Naomi, Art of the Month posters; Ryan, Not Enough Space; Steve, Unequal Votes, and Evelyn, Measure your Happiness.
The good value news is that teachers do not need to pay $7,586 to have Zina, Razi, Naomi, Steve or Ryan join their classrooms; instead these My-Story math posters are readily available from the Mathsoul Math Posters website for only US$3.00 each for the personal-study size used for student extension work in the classroom, and for home schooling. Normal classroom display size is still highly affordable at US$14.90. Free printable poster worksheets are available on the website to extend the learning opportunities.
My-Story math posters can just be displayed on classroom walls, although they were designed to be used most effectively as a series, one at a time, shared by multiple classrooms. A My-Story starter-set of 5 normal classroom size math posters is $59.60 - so when used over a 10 week period, in 5 classrooms, the real cost is only US$1.19 per 'classroom week'. Who wouldn't benefit from having Zina and her engaging and energizing friends in their classroom at that price!
The auction was run 'down-under' by the Association of Mathematics Teachers in New Zealand as part of their annual national Maths Week 08 activities. Over 40,000 students registered nationwide, and accumulated maths dollars when they successfully solved on-line mathematics problems. They could then use these points to bid in an auction for a variety of prizes including the 52 Mathsoul math posters, graphics calculators, DVDs etc. . This was no easy money for students however, and considerable sustained effort was needed to accumulate the sort of money used for the winning bids on these Mathsoul math posters.
The very strong auction bids confirm what is being seen in the classroom - that the vitality of these posters is well received by both teachers and students. Auction winners Zina, Razi, Naomi, Steve, Ryan and Evelyn can all be found at Mathsoul Math Posters, both as single posters, and within 5 poster sets. 'Meet' them there, and then prepare to be engaged and energized when your ordered Mathsoul My-Story laminated posters arrive to further enhance your learning environment.
About Mathsoul Math Posters:
Mathsoul posters help teachers to engage and energize school math students. They seek to be socially inclusive in image and occupation inclusion, and are factory pre-laminated so as to be ready for immediate use by busy teachers and students. Importantly, when printed for delivery their language and units are customised to market. So they are Mathsoul Math Posters with imperial units when delivered in the United States, and Mathsoul Maths Posters in metric units when delivered in New Zealand, Australia, UK, and different again in Canada.
###