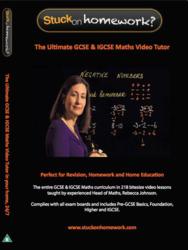 UK (PRWEB UK) 14 May 2013
With the Summer exams season now upon us, thousands of pupils are revising the GCSE or IGCSE maths curriculum. It can be a stressful time for parents and teachers as well as pupils.
The increasingly popular GCSE Maths online site, Stuckonhomework.com has just launched a Maths DvdRom in response to requests from parents and teachers who wanted students who do not have access to the Internet to be able to use the Maths Video Lessons.
The DVDROM contains 218 high quality and easy to understand Maths lessons taught by a very experienced Head of Maths, Rebecca Johnson. The video lessons are broken down into small bite-size tutorials and cover the entire GCSE and IGCSE Maths Curriculum.
The DVDROM provides Maths Video Tutorials starting at Pre GCSE Basics, to Foundation, Higher and IGCSE.
The DVDROM plays on all computers including both PC and Mac and the lessons are easily accessed using a simple menu system or a Search box.
The lessons can be played, paused, rewound and replayed as many times as needed and are perfect for Revision, Home Educators, Homework help and Catch-up learning.
The Stuck on Homework DVDROM provides comprehensive and affordable GCSE & IGCSE Maths support in time for the upcoming exams this Summer and beyond.
The new Stuck on Homework GCSE & IGCSE Maths DVDROM can be purchased from Amazon or from the Stuck on Homework website http://www.stuckonhomework.com and is priced at £19.99.
Editors Notes
Stuckonhomework.com is the UK's first video-based education website designed to provide help for GCSE pupils when they get stuck on their homework. It is a cost effective alternative to home tutoring and has been designed for pupils to use when they're not at school.
Stuckonhomework.com was formed by Helen Royle and Teresa Watts, ex-senior executives at the BBC and ITV. The website been endorsed by several leading head teachers and education experts, and is also backed by investment from Sir Terry Leahy, out-going Chief Executive of Tesco.
A 2012 survey of Stuck on Homework subscribers showed that 82% of users achieved or improved their predicted grade and 100% said they would recommend to others.
For more information visit the website, Facebook page, or contact Teresa(at)stuck-ltd(dot)com.