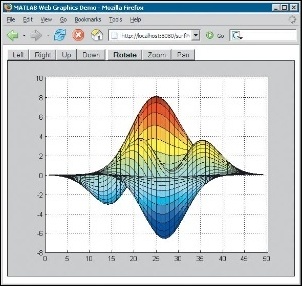 MATLAB Builders for .NET and Java save considerable effort by repackaging algorithms developed in MATLAB into deployable components that can be used royalty-free in desktop and Web applications
NATICK, Mass. (PRWEB) March 12, 2007
MATLAB(R) Builder for Java(TM) converts MATLAB algorithms into standard Java classes that can be called from any Java application. MATLAB(R) Builder for .NET converts MATLAB algorithms into standard .NET or Common Object Model (COM) components. With both builders, engineers and scientists can leverage the high-level language, technical functions, and visualization tools in MATLAB to efficiently prototype and develop their algorithms, which can then be distributed to users without MATLAB as components of desktop or Web applications.
"MATLAB Builders for .NET and Java save considerable effort by repackaging algorithms developed in MATLAB into deployable components that can be used royalty-free in desktop and Web applications," said Rachel Schiff, technical marketing manager at The MathWorks.
Availability and Pricing
MATLAB Builder for Java is available immediately for the Microsoft Windows, UNIX, and Linux platforms. MATLAB Builder for .NET is available immediately for the Microsoft Windows platform. U.S. list prices for each product start at $4,000.
About The MathWorks
The MathWorks is the world's leading developer of technical computing and Model-Based Design software for engineers and scientists in industry, government, and education. With an extensive product set based on MATLAB and Simulink(R), The MathWorks provides software and services to solve challenging problems and accelerate innovation in automotive, aerospace, communications, financial services, biotechnology, electronics, instrumentation, process, and other industries.
The MathWorks was founded in 1984 and employs more than 1,600 people worldwide, with headquarters in Natick, Massachusetts. For additional information, visit http://www.mathworks.com.
MATLAB, Simulink, Stateflow, Handle Graphics, Real-Time Workshop, and xPC TargetBox are registered trademarks, and SimBiology, SimEvents, and SimHydraulics are trademarks of The MathWorks, Inc. Other product or brand names are trademarks or registered trademarks of their respective holders.