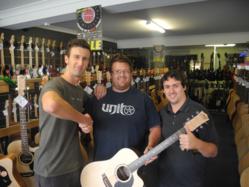 we have no doubt that the international face of the competition through Facebook will put the Maton Guitars name on the lips of guitar lovers around the world
Adelaide, Australia (PRWEB) January 02, 2013
In the six weeks leading up to Christmas, Haworth Music Centre ran a Facebook-based competition to win an Australian designed and made Maton Guitar. The winner was presented with his Maton EM325C acoustic guitar, just in time for Christmas, on December 21.
Entries to the competition came from all over the world, with the only requirement being to 'Like' the Haworth Guitars Facebook page, and in 30 words or less say why they would like to win.
The winning entry came from Brian Cameron (pictured, center).
"We were blown away by the number of entries, and where they came from," said Haworth's Managing Director, Glenn Haworth. "Using Facebook as the entry medium gave the competition a truly international feel, and demonstrated to us the power of social media as part of our marketing mix."
The Maton guitar was chosen as the prize following Haworth being named Top Maton Guitar Retailer for the 2011-2012 financial year, for the second year in a row.
"We have a strong affinity with Maton Guitars," continued Mr Haworth. "We love that from humble beginnings in 1946 their expertise in crafting superior guitars from Australian timbers has resulted in a great Australian success story."
"The Maton EM325C acoustic guitar that we presented to Brian puts a true piece of musical craftsmanship into the hands of a yet another Australian," he continued. "And we have no doubt that the international face of the competition through Facebook will put the Maton Guitars name on the lips of guitar lovers around the world."
The Haworth team's goal is to win the Top Maton Guitar Retailer award again in 2013, by continuing to share their appreciation for the Maton instruments with their in-store and online customers.
For more information about the huge range of guitars at Haworth Music Centre, visit HaworthGuitars.com.au
About Haworth Music Centre
Luthier Phil Haworth established Haworth Guitars in 1999, with a focus on building and repairing stringed instruments. In 2000 the transition from workshop to retail space was made, and in 2008 the two-level Haworth's Music Centre, with adjacent Warehouse, was opened in Albion Park Rail, just south of Sydney, Australia.
Phil has returned to his love of guitar-building and the business is run by his son, Glenn, who in 2011 became General Manager. The Haworth team is comprised of young people who are passionate about music and musical instruments.
Haworth's ability to remain very competitive in an online world rests with its warehousing capabilities and strong online presence.
Visit the Haworth website at HaworthGuitars.com.au