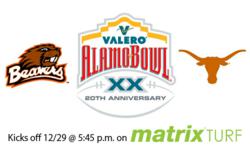 SAN ANTONIO, Texas (PRWEB) December 29, 2012
The SoftTop™ synthetic turf field inside the Alamodome in San Antonio, Texas will soon be the stage for yet another Valero Alamo Bowl. This patented artificial turf system is rapidly gaining popularity among facility owners as the perfect solution for multi-use facilities seeking a greater ROI. A similar synthetic turf system is in place at Cowboys Stadium – one of the most iconic sports arenas in the world – and allows the facility to host a multitude of events from rodeos, boxing matches, soccer games, football games, and concerts – not just athletic and sporting events!
The Matrix Turf field in the Alamodome is setup and ready to support this year's match-up between the University of Texas Longhorns and the Oregon State Beavers. One unique thing about this year's football game is that both teams have joined forces for a "Fill the Bowl" food drive. Behind this effort is the President/CEO of the Valero Alamo Bowl who is calling it his 20-20-20 plan. The idea is to generate non-perishable donations from the top 20 "most needed list" for the 20th Anniversary of the Valero Alamo Bowl. In exchange for their 20 items, fans will receive one complimentary game ticket.
In addition to donating food items, the food drive will accept cash donations and has pledged to match up to $20,000 in donations – all of which will be used to help feed those in need around Southwest Texas communities.
The 20th Anniversary Valero Alamo Bowl kicks off at 5:45 p.m. CST from San Antonio, Texas as is one of the three 2012-2013 collegiate bowl games taking place on Matrix Turf.
Hellas Sports Construction has a strong reputation for delivering premium-quality sports construction projects across the United States. Hellas also manufactures its own proprietary synthetic sport surfaces for field sports, running tracks and tennis courts, controlling all operations from their corporate headquarters in Austin, TX. For more information about Matrix Turf, visit: http://www.matrix-turf.com.