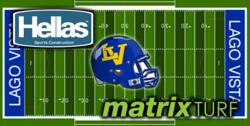 Lago Vista really wanted our Matrix Turf
LAGO VISTA, TX (PRWEB) April 21, 2013
Lago Vista Independent School District is upgrading their athletic facilities and has chosen a nationwide provider in their own backyard for the project. Hellas Sports Construction was selected for its tight vertical integration, ability to meet deadlines, and their proprietary synthetic turf system – Matrix Turf. Matrix Turf's exceptional durability, strong reputation within the sporting community, and patented technology features that have attracted many clients, like Lago Vista ISD.
"Lago Vista really wanted our Matrix Turf," said Eric Lutz, Business Development Manager for Hellas Sports Construction. "They have seen how well it performs under heavy use, played games on our Matrix Turf, and know that it is a great system that no one else can offer."
Hellas will complete the conversion of an existing natural grass athletic field into Matrix Turf. The synthetic turf conversion from natural to artificial grass will aid the District in reducing its environmental impact on what are already alarmingly low water levels at Lake Travis.
The new athletic field is part of a planned expansion of Lago Vista ISD, which is building the new Lago Vista High School at the project site. Hellas Sports Construction began mobilizing construction crews and equipment this week in an effort to get the project completed ahead of schedule.
Based on CAD designs produced by Hellas, the new Matrix Turf athletic field will feature inlays for various sports – reducing the need for separate athletic facilities – and both practice and official games will occur on literally the same synthetic turf! This will also help reduce the amount of green space currently needed to support district athletics, recreational sports, and continual use by various other student organizations. For instance, the marching band, cheerleading squad, and dance teams will also be able to use Hellas Sports Construction's advanced turf system.
"We have invested heavily in our Matrix Turf system," noted Reed J. Seaton, President and CEO of Hellas Sports Construction. "It's so much more than synthetic turf. Below the surface are innovations only Hellas can provide, which we feel make Matrix Turf the best choice for any athletic facility."
In addition to constructing and installing the Matrix Turf system at Lago Vista High School, Hellas controls the manufacturing facilities, so meeting the District's timeline won't be an issue. Crews expect to wrap up construction to the new synthetic turf field in late May.
Hellas Sports Construction is a nation-wide sport contractor with a reputation for managing and delivering premium-quality sports construction projects. In addition, Hellas manufactures and installs proprietary synthetic systems for field sports, running tracks, and tennis courts, controlling operations from one of several US-based offices. Clients include the NFL Experience, Cowboys Stadium, AT&T Cotton Bowl Classic, University of California at Berkeley, Baylor University, Idaho State University, the Alamodome, Northern Arizona University, University of North Carolina at Charlotte, University of San Diego and various other prominent high schools, collegiate institutions, and stadiums.