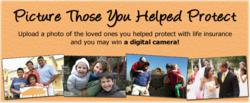 San Diego, CA (PRWEB) May 08, 2012
Matrix Direct, one of the nation's top direct-to-consumer term life insurance agencies, this month is offering its Facebook fans the chance to win a digital camera in an online photo contest.
The company's "Picture Those You Helped Protect" contest encourages consumers to proudly display photos of the spouses, children and other loved ones they helped protect by purchasing term life insurance.
Buying a term life insurance policy to help cover a family's living expenses and other costs in the event of a sudden or unexpected death is a big step in life. Matrix Direct thinks consumers should be proud about helping provide for their loved ones with term life insurance.
Enter the Facebook Photo Contest Today!
Entering the Matrix Direct "Picture Those You Helped" Protect photo contest is free and easy to do. In order to enter your photo, simply:
1) Visit the Matrix Direct Facebook Photo Contest Page and click "Like"
2) Follow the directions to upload a photo to the online gallery
Throughout May, visitors can upload a photo to the contest gallery and browse through entries, voting for their favorites. The photo that garners the most combined votes from the Facebook community and a panel of Matrix Direct voters will take home the Grand Prize – a new digital camera.
Full contest rules can be found on the Facebook photo contest page.
Deciding to buy a term life insurance policy can be a great foundation on which to build a solid financial plan. It may also be an effective way to help financially provide for a spouse, child or other loved ones. For less money than most people spend on cable television each month, consumers can help protect their family's financial future with affordable term life insurance.
About Matrix Direct
Matrix Direct, Inc., one of the country's leading life insurance agencies. Over 6 million Americans have contacted Matrix Direct for the best term life insurance quotes. Matrix Direct, Inc. is a subsidiary of American General Life Insurance Company, Houston, TX and an affiliate of The United States Life Insurance Company in the City of New York, NY, NY. Agency services provided by Matrix Direct Insurance Services in CA (#0B57619), ME, MA, and OK; Matrix Direct Insurance Agency, Inc. in UT; and Matrix Direct, Inc. in AR(#246412) and all other states, except SD.
###