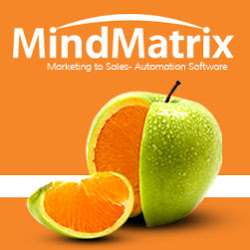 Pittsburgh, PA (PRWEB) September 20, 2012
MindMatrix has enhanced their marketing automation platform, AMP, with a powerful new personalization engine. This engine will enable users to introduce a greater level of personalization to both in-bound and out-bound marketing campaigns.
The personalization engine collects prospect data from a variety of sources including website/landing page visits, form sign-ups, marketing campaign responses, and CRM databases. It then analyzes the data and uses that information to design a highly personalized marketing/sales communication. Users can personalize their sales and marketing messages based on pre-defined criteria ranging from contact activity, contact attributes, pre-set time-frames and more. The unique selling feature of AMP's personalization engine is the power it gives users to customize both text and visual design based on pre-defined criteria. Moreover, this personalization engine works in real-time—refining prospect profiles dynamically to reflect their preferences and choices.
Harbinder Khera, CEO of MindMatrix says, "Individual salespeople always wish to customize their offerings for clients, but are usually limited to options like putting a name and address sticker on a pre-printed glossy brochure or spending too much time hand-crafting a proposal. AMP's personalization engine changes this. The aim behind this upgrade is to take the prospect experience to a whole new level by providing information targeted to the individual consumer– in an on-demand, cost-effective manner. Businesses can achieve superior results in their marketing and sales initiatives by making their content as relevant as possible to the needs of each consumer….and the most cost-effective and efficient way to do so is by automating these processes through the use of comprehensive marketing software."
Harbinder believes the upgrade will allow marketers and salespersons to tap into rich prospect data sources and tailor their offerings accordingly; allowing them to enjoy shorter sales cycles, improved customer retention, increased revenue and significantly lesser marketing and sales process costs."
About MindMatrix
For the past 14 years, MindMatrix, Inc. has focused on sales-marketing alignment for over 34,000 sales and marketing professionals worldwide. Unique to the industry, MindMatrix offers Next-Generation Marketing Automation software on a single unified platform for Sales and Marketing. Our solutions bring about a seamless integration of the two key functions, helping our clients derive the maximum benefit from their investment in sales and marketing.
Our product offerings for sales include on-demand sales materials creation, and smart lead prospecting. On the marketing front, our solutions cover demand generation, brand management, quality lead generation, lead nurturing, social media automation, lead scoring, an marketing materials creation across print and digital media.