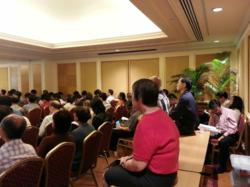 We had to keep bringing in more and more chairs until finally we had to concede that there was no room to place any more clamoring registrants
Duluth, GA (PRWEB) April 03, 2013
When Matt Bacak recently decided to extend his stay in Singapore to offer an "Internet Goldrush 2.0" training session, he hoped that his long-time absence from the country would lure a sizable audience. Even he, however, couldn't have predicted the massive turnout his appearance would draw. So many people, in fact, showed up for the Internet money-making event at the Holiday Inn Singapore Orchard City Centre on March 30, 2013 that many had to be turned away at the door. Otherwise, the venue might have found itself in a showdown with the local fire marshal.
One of CNN's foreign correspondents recently posed the question: "Are conferences a waste of time?" Therein, she pointed out, "Over the years of reporting from Africa, I have had to suffer through many conferences …. More often than not, I have watched [attendees] sleep, look disinterested or [key players] not even turn up at all." Had she been in attendance at "Internet Goldrush 2.0," she likely would have walked away with an entirely different take on the matter. Not only did people show up bubbling over with enthusiasm but they came in droves.
"Given that the topic was how to make money the real way online, I anticipated a respectable crowd," explains conference speaker Matt Bacak. "But even in my wildest dreams I couldn't have foreseen the ultimate outcome." In fact, the popular Internet marketer, who was in Singapore to resurrect his public speaking circuitry, didn't just fill the room. So many would-be attendees beat a path to the door that several had to be turned away. "If we'd let them all in, the hotel would have been in big trouble with the city fire marshal."
Indeed, the scene inside the hotel conference center showed the room so full it overflowed capacity. "Internet Goldrush 2.0" not only filled all the available seats. People also lined up for standing room only admission. Attendees stood in the back and sat on the table on the far side of room just for the opportunity to be in the same room as Bacak and to uncover his secrets to Internet marketing success.
"It wasn't just a full house; it was an over-full house," Bacak relates with pride. "We had to keep bringing in more and more chairs until finally we had to concede that there was no room to place any more clamoring registrants." How does Bacak feel about Singaporeans' interest in his Internet marketing knowledge after so much time away from the country? "It was insane ... and awesome at the same time!"
If attendee response is any indication, Bacak won't be taking another break from the speaking circuit anytime soon. People in attendance were shocked about how much content and value he gave them during the event. "A lot of people come from all over the world to do events like this. The problem is they don't provide anything of real value. I believe in giving my mentees the biggest bang for their buck, and I couldn't be happier that they feel as though I did just that."
For more information on the Internet marketing phenom who lured a record-setting crowd to Internet Goldrush 2.0 in Singapore, visit Matt Bacak online at http://www.mattbacaksupport.com/. To book Matt to speak at an upcoming event, simply contact his agent at http://gailkingsbury.com/contact.