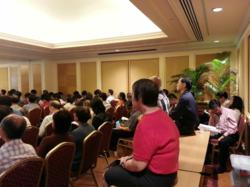 I told him about the resounding success of my first Goldrush event and he wanted to do a repeat performance
Duluth GA (PRWEB) May 06, 2013
Matt Bacak is back in Singapore, the site of his recent standing room only "Internet Goldrush 2.0" training session. His return marks a second opportunity for those who were turned away at the door the first time around to tap into Bacak's mega online moneymaking strategies. This time, however, he's teamed up with Singapore's well-respected marketer and promoter, Fabian Lam, giving attendees up-close and personal access to two Internet millionaires instead of one. The event, which takes place at the former Starhub Centre at 51 Cuppage Road in Singapore on May 7, is free while seats remain.
Initially, Matt Bacak headed back to Singapore to work one on one with the many new clients he gained as a result of the first Internet Goldrush session. That's when he bumped into his old friend and colleague Fabian Lim. Lim has personally trained over 5,000 graduates in his popular Internet marketing training programs in Singapore, Malaysia, Indonesia, Vietnam and Japan. In addition, he has helped countless ordinary people achieve a consistent five-figure monthly income on the Internet … all while working from the comfort of their own homes.
That run-in prompted Bacak to propose a joint venture with Lim. "I told him about the resounding success of my first Goldrush event and he wanted to do a repeat performance," explains Bacak. "He was immediately on board with the idea." The wheels of motion spun quickly from there, with an evening workshop soon set in place for May 7. This time around, the session will take place at Lim's office instead of at a hotel, with preferred seating going to Lim's clients.
"Fabian and I hit it off years ago when I used to come to Singapore to speak. At the time, we both had our own private airplanes and were jet-setting around the world together," Bacak reminisces. "Recently, a mutual friend re-introduced us while I was here in Singapore, and the rest is history. I couldn't be more pleased to share the Internet millionaire spotlight with anyone else."
Registration to the Bacak-Lim Goldrush event is free, but available slots are extremely limited. Bacak promises that he will make it well worth registrants' time. In particular, he'll be showing them step by step how 10 mega websites will actually rake in money for them automatically. Therefore, would-be Internet millionaires should act quickly before the educational seminar is a repeat sellout.
For more information on how to register for the Goldrush event with Bacak and Lim in Singapore, visit http://clickevents.com.sg/free-websites/#register. To book Matt to speak at an upcoming event, simply contact his agent at http://gailkingsbury.com/contact.