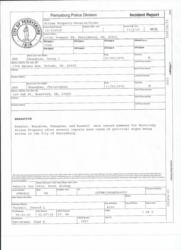 The only way for Matt Szollosi to distance himself from John Russell is to give back the money his campaign has recieved from the Sheet Metal Workers Local 33 Toledo District PAC immediately.
Maumee, OH (PRWEB) November 04, 2012
Ohio police arrested four men early Friday on charges of stealing Mitt Romney campaign signs that were found in a union-owned pickup truck, The Blaze reported. http://tinyurl.com/a7b8p3d These 4 men were all part of the Sheet Metal Workers Local #33.
According to a quick search of the Ohio Secretary of State's website http://tinyurl.com/b7lql6h the Sheet Metal Workers Local #33 PAC gave $500 to Friends of Matt Szollosi on 10/31/11, $1,000 on 4/13/2012 and $2,500 on 6/21/12.
"It is disappointing to learn that Matt Szollosi is tied to these types of criminals," State Representative candidate Dave Kissinger said today. "That he knows the ring leader, John Russell personally and has received tens of thousands of dollars from organizations tied to John Russell is offensive and the money should immediately be returned." Kissinger said.
"We find it unfortunate that the Sheet Metal Union is involved in such low behavior and actively suppressing freedom of speech during such an important election." John McAvoy, Board Member of the Northwest Ohio Conservative Coalition said today. "We hope the news media will aggressively pursue this investigation. Wide reports of Romney signs being stolen have been an issue for many weeks, but this is the first we've heard of anyone being caught." McAvoy said.
"This is exactly the opposite of what folks expect from their elected officials and this is exactly why I am running to lead the new 46th District in a new direction." Kissinger continued. "If we are going to lead our community and our State out of the mess we are in we are going to need to have the courage to change the status quo," said Kissinger. "Frankly, the toughest part about this recession is not only that people have lost jobs, they have lost trust in those who should have been serving them and not special interest," Kissinger said. "Moving forward will require vision and leadership to encourage the business investment necessary for our community's future" said Kissinger.
Dave Kissinger is running to represent the 46th Ohio House District. He is a Navy veteran and has worked in healthcare for nearly two decades. His main focus in Columbus will be on encouraging job growth by demanding a state government that is more responsive to the needs of businesses, enhancing the quality of healthcare through the use of technology and transparency, and improving the effective delivery of education that is focused on common sense solutions actually resulting in employment. He, his wife and family reside in Maumee.