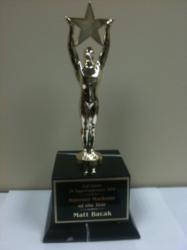 How to Skyrocket Your Profits in 2010 and Beyond.
Duluth, GA (PRWEB) June 19, 2010
When the Internet Marketing and JV Super Conference took place April 30 through May 2, 2010 in Los Angeles, California, the 2009 Internet Marketer of the Year was announced. Nabbing the coveted title was online entrepreneur extraordinaire, Matt Bacak – despite his last-minute inability to attend.
According to the conference's lineup, Matt Bacak was supposed to join host Jeff Adams, a nationally recognized real estate expert and trainer; DC Fawcett, a leading real estate coach, trainer and expert on luxury short sales; and Dean Graziosi, a real estate investing expert for a "How to Skyrocket Your Profits in 2010 and Beyond." Unfortunately, a family medical emergency forced him to back out at the last minute.
Under normal circumstances, Bacak's absence may very well have precluded him from claiming the Internet Marketer of the Year distinction. After all, the super conference was billed as a forum at which attendees could connect with real players with serious operations and huge lists as well as rub shoulders with the guys and gals who could transform their businesses. But this was no ordinary conference and Bacak is no ordinary Internet marketer.
Sought-after for his proven online strategies,Matt Bacak has marketed for some of the world's top experts. An entrepreneur from the time he could pull a wagon, Bacak now devotes his time to coaching and consulting with others so they can benefit from the experience and gifts that made him an online millionaire before the age of 30. His uncanny ability to boil down vast – and often conflicting – amounts of complex information into the easiest path to financial success is unparalleled in the industry.
"When an unexpected trip to the ER coincided with my Internet Marketing and JV Super Conference departure date, I thought I'd blown my chances at taking home its top honor," explains Bacak. "It only stood to reason that in my absence they'd bestow the distinction upon someone else who was actually in attendance. So imagine my surprise when the trophy showed up at my door last week."
And if the weight of the trophy is any indication of Bacak's worthiness, next year's Internet Marketer of the Year is going to have some pretty big shoes to fill. "It's heavy," he enthuses.
For more information on the Internet Marketing and JV Superconference, visit http://www.jvsuperconference.com/. To learn more about the achievements that earned Bacak the Internet Marketer of the Year nod, contact Dave Wilson at (404) 537-1321 or visit him online at http://www.mattbacak.com/.
###