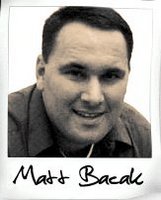 Suwanee, GA (PRWEB) September 7, 2008
Sometimes two heads are better than one. And in the Internet marketing world, access to two successful brains is most certainly better than one. No one knows that reality better than the Powerful Promoter, Matt Bacak, and Joe Lavery of Must Have Marketing fame. Singly, each one has made an Internet marketing name--and millions--for himself. Together, they're now planning to do the same for others. In August, the pair teamed up to host a Massive Monthly Income Boot Camp. During this two-day event, they personally taught participants how to make money online with membership websites. The results of that teamwork were so positive that they've decide to remain a dynamic duo. Internet marketers who would like to learn how to make scads of money online with membership websites can learn more about the Bacak/Lavery collaboration online at http://www.powerfulpromoter.com.
Everyone wants to be an Internet marketer these days, and everyone and his brother wants to become an Internet marketing millionaire. The reality of the situation is that only 5% of those who set out to achieve success in the Internet marketing world will actually reach their goal. To become a member of this elite echelon, they'll need to prepare themselves in advance with a long list of setup must-dos. Without such preparation, they're basically setting themselves up to become another statistic of the 9.5 out of 10 failures.
That's where advice from the been there/done thats of the industry becomes priceless. And if any Internet marketers have been there and done that, it's Matt Bacak and Joe Lavery. Successes by any definition, Bacak and Lavery have now teamed up to share their collective wisdom and wealth-building secrets. The twosome is now teaching budding Internet marketers exactly how to start creating a monthly income stream for themselves. In addition, they are also sharing the latest traffic strategies they themselves are using to maintain and grow their member bases.
As the saying goes, the proof is in the pudding, and last month's Massive Monthly Income Boot Camp participants provide that proof. Every single one of Bacak and Lavery's students walked away from that event with a fully operational Web business that was up and running within days. They also now have a specially designed MMI website, including a fully functional membership site, that earns them residual income on a recurring bases. Armed with all of that functionality, they're already miles ahead of 95% of their competition.
For more information on Lavery and Bacak's decision to join Internet marketing forces, contact Stephanie Bunn at (770) 271-1536. To achieve the same kind of business results Massive Monthly Income Boot Camp attendees have, visit http://www.powerfulpromoter.com.
# # #