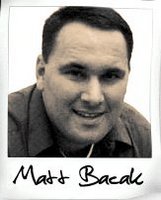 Why give it to just one person when I can hand it to the entire IM community?
Duluth, GA (PRWEB) March 8, 2010
As of February 25, 2010, Internet marketing guru Matt Bacak is no longer going by the moniker "The Powerful Promoter." After a few years of business re-evaluation and soul-searching, he has decided to pass on the torch he lit eight years ago. But instead of handing it over to a single individual, he's relinquishing the title to a group of the industry's best up-and-coming Internet marketers. To that end, he's developed the Powerful Promoter news blog, which will be populated by a who's who of IM contributors.
Bacak earned "The Powerful Promoter" nickname on a whim in 2002 at the conclusion of one of his Internet marketing events. "It was just me and a bunch people sitting in a room. After a few days of exchanging online marketing strategies, out of the blue someone coined me 'The Powerful Promoter,'" he relates. The alias stuck and the rest is history, but it's a namesake Bacak has been feeling as though he was outgrowing for quite some time.
"Over a year ago, I decided to put my family first and the business second," Bacak explains.
"Because of those changes, I no longer felt the title suited me. Nowadays, I think of myself more as 'The Powerful Father,'" he jokes. At the same time, he knew the moniker and his reputation would be forever tied. Finding someone he could entrust with that esteem proved challenging. In the end, he decided, "Why give it to just one person when I can hand it to the entire IM community?"
Within days of announcing he would be relinquishing the title, Bacak had over 25 Internet marketers requesting featured contributor status to the new Powerful Promoter Web page. The newly launched site, http://powerfulpromoter.com/, is slated to be a collaborative news blog, where the best in the IM world will contribute Internet marketing, list building, article marketing and copywriting content along with IM products and reviews.
The site is currently under reconstruction. When it officially re-launches, long-time Matt Bacak followers will be treated to a totally re-vamped portal. They need not worry, however, that the quality of information they're accustomed to receiving will suffer as a result of the transformation. Although Bacak will no longer be writing the content, he will still be exercising editorial control over who will be contributing.
For more information on the soon–to–re-debut Powerful Promoter site, contact Matt Bacak's assistant, Tamara Smith at (770) 623-3008. To stay on top of the latest and greatest the Internet marketing world has to offer, visit the new blog online at http://powerfulpromoter.com/.
###