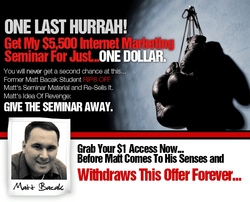 if you can't beat 'em, join 'em
Suwanee, GA (PRWEB) May 20, 2008
Internet marketing maker of the stars, Matt Bacak, was out for blood, and online entrepreneurs -- along with Habitat for Humanity -- reapped the rewards of his revenge. When Bacak recently discovered that the lead-generation secrets he'd taught them had been stolen by a few of his very own students, he got mad ... and then he decided to get even. Rather than suing these rip-off artists, however, Bacak decided to beat them at their own game by selling the practical how-to strategies they're trying to cash in on for just $1. And every dollar that Bacak brought in on this vengeful promotion went straight to Habitat for Humanity. Internet marketers who wanted to learn the same money-making lead-generation secrets that made Bacak a millionaire before the age of 30 can signed up for this limited-time charitable offer online at http://www.mattbacakretires.com
When Matt Bacak recently discovered that yet another of his former students had ripped off his Internet marketing seminar materials and was now selling them with his own scam-artist name on the cover, the "Powerful Promoter" initially thought lawsuit. Daunted by the negativity surrounding such a prospect, however, he then decided to take out his revenge in another form. That's when he made the decision to announce his retirement ... from his popular $5,500 weekend workshops.
Opting for the "if you can't beat 'em, join 'em" mentality, Bacak decided to give away the money-making secrets his foes were trying to cash in on, thereby cutting off their income blood flow at the jugular. And online entrepreneurs are the ones who are going to profit from his avenging bloodbath. For a limited time, Bacak gave away $1 access to all the Internet marketing lead-generation system secrets that up until now dozens of online entrepreneurs have paid $5,500 for. And while he went "all balls out" in his revenge tactics, he also donated every dollar he receives to Habitat for Humanity.
These insider tips of the trade are the exact same ones Bacak has taught to Internet marketing success stories like Ray Edwards, Mike Litman, Drew Miles, Mark Joyner, Tom Antion, Kirt Christensen, Marlon Sanders, Tellman Knudson, and many others. Once a well-guarded secret, Bacak's seminar strategies revealed everything online entrepreneurs needed to know to dominate a niche. But now that the cat is out of the stolen moneybag, Bacak has decided to retire that seminar. Holding nothing back in his efforts to put the pirates of his material out of business, he gave away all his top-secret videos, notes and PowerPoint presentations for one charity-reserved dollar.
For more information on Bacak's decision to retire his $5,500 Internet marketing seminar, contact Stephanie Bunn at (770) 271-1536. To see the results of Bacak's lead-generation system $1 giveaway, visit http://www.mattbacakretires.com
###