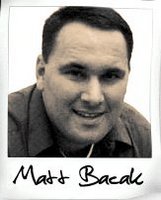 Often I'll get asked two to three times a day to speak at events all over the world. I'm now declining all such gigs. Living out of a suitcase while I traveled the world speaking was really beginning to take a toll on me
Duluth, GA (PRWEB) September 23, 2009
After five years of guest-speaker globetrotting, Internet marketing legend Matt Bacak is hanging up his world-traveler speaking hat. "The Powerful Promoter" has just announced that he will no longer be accepting any invitations to talk at upcoming Internet marketing events. In fact, he's making that decision retroactive by canceling all the talks he had lined up for the remainder of the year. From this point forward, the only opportunity individuals will have to hear Bacak reveal his Internet marketing secrets live are at his own events or at those he's co-hosting, like the recent World Internet Summit in Atlanta. Internet marketing skeptics who would like to stay abreast of Bacak's limited speaking schedule can do so online at http://www.powerfulpromoter.com/.
After a bit of introspection, the resolution to clear his schedule was an easy one for Matt Bacak. A few months back, he vowed to make his family, his members and his new business, Bleeding Edge Innovations, top priority. He'd been sticking to that promise wholeheartedly and then he saw his upcoming calendar filled with speaking engagements. With a 12-day tour around Australia, a tour of Malaysia and Singapore, and gigs in the USA and London already on tap, he faced a dilemma. Did he keep his word to others or the one he'd made to himself? He chose the latter.
Bacak's huge fan base makes him a top draw to Internet marketing promoters. "Often I'll get asked two to three times a day to speak at events all over the world. I'm now declining all such gigs. Living out of a suitcase while I traveled the world speaking was really beginning to take a toll on me," Bacak explains of his decision. "It disconnected me from my family, my business and my health."
That's not to mention his growing disconnect from the Internet marketing community at large. "Most of the Internet marketing speakers don't even know how to even do Internet marketing. They're just hired guns whose motive is to push sales," Bacak continues.
With a new found focus on differentiating himself within the industry and making himself more readily available to his members, the urge to distance himself from the rat pack gnawed at him. "I never needed my speaking income to earn a living. The best marketers don't have to speak because they make more money from their products and services. With Bleeding Edge innovations, that's where my focus lies. And that's another reason I'm done with the speaking circuit."
All of that is not to bad mouth the Internet marketers Bacak formerly collaborated with. "Don't get me wrong. Over the years, I've met some amazing people through my public speaking engagements. Overall, it's been a great experience, but my family, office and members now need me to focus on them. When I set out to do things, I follow through. A while back I decided to put my family and customers first, and that's precisely what I'm doing," he concludes with conviction.
For more information on Matt Bacak's decision to clear his public speaking schedule, contact Tamara Smith at (770) 623-3008. To receive updates on upcoming events he'll be hosting or co-hosting, visit http://www.promotingtips.com/.
###