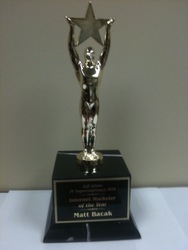 MattBacak and Alen Sultanic are handing out four titles to recognize their top promoters for all their hard work in making Mass Money Makers a history-making launch.
Duluth, GA (PRWEB) December 26, 2010
If professional titles carry as much weight and clout as some psychology studies suggest, Mass Money Makers' promoters better steel themselves for an influential New Year. That's because the top marketers of the ClickBank product will be walking away with some of the most coveted Internet marketing titles. Internet Marketer of the Year is just one of the monikers that could transform an affiliate or JV partner's career in 2011.
Human resources consultancy Integrity HR recently published an article titled "…Effect of a Job Title on Productivity." The piece examined the psychological impact one's professional designation has on his or her business performance. One of the conclusions the company drew was that because they "denote success and power," high-ranking titles tend to produce workers who strive hard to live up to their elevated status. Individuals who hold the title of manager, for instance, wield more power and assume greater leadership roles than those with less influential designations.
Why does this tendency unfold? Integrity HR thinks it's because "many people hold a large amount of intrinsic value with their job title, which means there is a large likelihood that the name of one's job title and what that title means to them can develop into a self-fulfilling prophecy."
If that self-fulfilling prophecy theory holds any water, the top promoters of the upcoming Mass Money Makers' ClickBank launch better prepare for a very prosperous 2011. After all, the title of manager pales in comparison to designations like 2011 Internet Marketer of the Year and a ClickBank King.
Currently held by legendary Matt Bacak, the Internet Marketer of the Year Award is one of the highest recognitions in the industry. The holder of the title holds significant clout within the Internet marketing community, the extent of which is typically earned only after years of hard work and dedication. When his latest product debuts on ClickBank on December 28, 2010, Bacak is ready to abdicate the IM throne and hand over the crown to the affiliate or JV partner who is Mass Money Makers' top promoter.
This promotion campaign, however, isn't one in which a single winner will walk away with all the glory. In fact, Bacak and Alen Sultanic are handing out four titles to recognize their top promoters for all their hard work in making Mass Money Makers a history-making launch. In addition to the Internet Marketer of the Year/ClickBank King award, they'll also be dubbing three of their affiliates and JV promoters the Internet Marketer of the Year Runner Up, the Highest Earnings Per Click (EPC) Earner and the Top Click Sender. Given that ClickBank has paid out over $1.7 billion in client earnings over the past 10 years, those titles could make the New Year a very profitable one for the winners.
"During the Mass Money Makers' launch, some amazing things are going to be happening," explains Bacak, co-developer of the product. "Somebody's going to hold the title I had to beat out some of the most talented people on the planet to hold. I can't think of any better way to show the competition who's boss in 2011."
Internet marketing affiliates and JV partners who want to be in the running for the 2011 Internet Marketer of the Year Award and become known as a ClickBank King can contact Mass Money Maker support or Tamara Smith at (770) 623-3008. For more information on how to get in on the career-enhancing titles Mass Money Makers will bequeath when it launches on ClickBank, visit http://www.massmoneyjv.com.
###