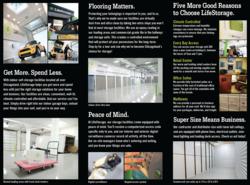 Matteson, IL (PRWEB) April 16, 2012
LifeStorage, Chicago self storage provider for home and business, records management and office solutions, is continuing its support of The Pantry of Rich Township, a not-for-profit extension of the Salvation Army, by holding its Second Annual Yard Sale on June 2nd at LifeStorage Matteson, located at 21700 S. Cicero Ave. Matteson, IL. The collection process is underway and the approaching event marks the sixth organized effort in a series of fundraisers LifeStorage Matteson has held throughout the past year specifically to raise funds, food, and goods for The Pantry. Efforts began with an open-ended food drive, a Charity Car Wash, participating in Chicago's Annual Hunger Walk (which they'll be participating in again), and a holiday clothing and toy drive, which will also begin again near the holiday season.
LifeStorage Matteson Store Manager Allison Thompson is encouraging current tenants and community members to gather up any items that are in good shape, but are no longer wanted or needed, and drop them off at the LifeStorage facility. "Tools, electronics, toys, clothing, furniture, kitchenware, yard equipment, bikes...anything that you no longer want or need but someone else might have a use for, please, stop by our facility and donate those items. We're accepting donations until June 1st, so you have plenty of time as you rummage through your basements, attics, and sheds for spring cleaning, but keep us in mind before you throw those items out," Thompson said.
For an organization like The Pantry, community contributions make all the difference. All proceeds collected are redistributed back into the community. The value The Pantry has on the communities it services is immeasurable. That's why LifeStorage Matteson has made chief charitable endeavor to help support The Pantry and raise as much as it can. Since the start of LifeStorage Matteson's efforts, it's collected about $1100 in food donations, $600 from the 2011 Yard Sale, $200 from the Charity Car Wash last year, and $800 in bread and pastry donations from Wonder Bread.
"Our mission as a company hasn't changed since I began working at LifeStorage Matteson. Our sister facilities are all working towards the same goals, to help our communities in any way they can. We know that it's tough and that people are still struggling. For us, The Pantry has such an immense impact on the community where we work, we're focusing on continuous support for Rich Township and the families that live here," Thompson said.
"As this is just the beginning of the collection process, there's plenty of time to contribute to our Yard Sale. As we get closer to the event date, we'll have a better idea of where we stand and how much we think we'll be able to raise, but typically, the goal is always the same: as much as we can!"
For those interested donating, please call the LifeStorage Matteson facility at 708-279-4138.