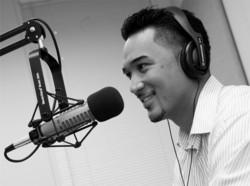 It's time to create your own bailout and stimulus plan that will change your economy. We'll help find answers by not telling you what to do, but how to do it
Chicago, IL (PRWEB) April 27, 2009
Many laid-off workers, parents, 401(k) investors and homeowners today are feeling so overwhelmed and alone. Many have exhausted all of their answers for their personal financial well being. But look no further, this may be the message of hope many have been looking for. Starting May 4th, every Monday to Friday on your way to and from work, find some financial relief in the midst of rush hour frustration. Tune in from 8:30am to 9:00am and 4:30pm to 5:00pm to Money Smart Radio on Chicago's AM 850, where you will hear, "Welcome to Money Smart Radio! I am Matthew Sapaula, your Money Smart Guy. If this economy has left you feeling even more confused, isolated and powerless when it comes to your money, job or business, then have no fear. We are able to provide you with the clarity to your confusion, community to your sense of isolation and creativity when you simply need to 'get out of that box'."
Matthew Sapaula is a long standing, credible member of the financial world. With his integrity and hard work he has risen to the top of the financial industry as a financial strategist, national speaker, author, advisor, regular TV commentator, and Chicago radio talk show host. He goes above and beyond to help people of all financial levels gain victory over their finances.
"Matthew, thanks for enlightening us with a new way of looking at finances. Here we thought we had it all together, little did we know there was so much more to learn. We appreciate your insight in helping us create the best financial plan for us, but most of all thank, for helping us secure the financial future of not only us, but that of our family as well." - Jose Santiago, former Operations Manager of major financial institution.
By tuning into Money Smart Radio on Chicago's AM 850, listeners will gain insight and the direction to move forward to achieve financial freedom. The changing economy requires a new outlook on money. Matthew Sapaula, your Money Smart Guy, brings a fresh perspective to financial fundamentals that are necessary to build upon and reshape your thinking. Listen to topics that not only help listeners manage their means but expand their means. Find more about Matthew Sapaula on Facebook, Twitter and YouTube.
Money Smart Radio strives to support its listeners in seeing the value in starting a business whether online or home-based, coming up with creative ideas for growing and controlling cash-flow, the different options in college planning or tuition funding and, retirement income security. Plus the show will help you in identifying previously unexplored options for achieving financial success. Loyal listeners will have the satisfaction of knowing that they will gain the clarity, sense of community, and money smart answers they need to confidently handle many financial situations.
"It's time to create your own bailout and stimulus plan that will change your economy. We'll help find answers by not telling you what to do, but how to do it," says Matthew.
Life, liberty and happiness awaits. To help people get there, all they have to do is tune in to Money Smart Radio online or Chicago's AM 850. They can listen in, ask questions or interact with them via their blog. For more information, or listen live, check out on their website http://www.moneysmartradio.com.
###