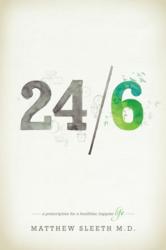 . . . in the metamorphosis to a 24/7 world, something has gone missing.
Lexington, Ky. (PRWEB) October 31, 2012
Former emergency room physician Matthew Sleeth has diagnosed Americans with a sobering case of busyness and suggests a simple remedy to cure the 24/7 lifestyle that ails them—stop.
In his new book that releases Nov. 1, 24/6: A Prescription for a Healthier, Happier Life (Tyndale House Publishers), Sleeth details the physical, mental and spiritual benefits of observing a "stop day." Sleeth says he has witnessed and experienced the positive things that can happen by unplugging one day each week.
"Just a short while ago, everything in society stopped one day a week," writes Sleeth. "No more. We are no longer a society that goes to sleep at night or conducts business six days a week. Now we go 24/7. And in the metamorphosis to a 24/7 world, something has gone missing."
The extra 24 hours a week that disappeared with the evolution of technology and constant push to do more in less time adds up to 52 days a year—11 years in a lifetime. "Subtract over a decade of sleep, work, or education, and the entire character of one's existence is altered," says Sleeth.
Drawing from the stories of thousands of patients he saw as a doctor and the truth of the Bible, Sleeth makes a convincing case on all levels—physical, mental, and spiritual—to stop everything one day each week for the sake of a healthier and happier life.
"The practice of stopping one day a week—of only going 24/6—is not new for humanity. It started the day after human history began, and it made it through the decline and fall of the Roman Empire . . . It survived the American Civil War and was still going strong when women got the vote. It prospered in the Depression, and it blasted off at the dawn of the Space Age. Only in the last few minutes of time has it been misplaced."
Coverage Opportunities: To speak with Sleeth about his new book and how Americans can transition to a 24/6 lifestyle, contact Kelsey Hulgan at 770.813.0000 or khulgan(at)demossgroup(dot)com.
ABOUT THE AUTHOR
Matthew Sleeth, M.D., a former emergency room physician, treated a growing number of patients with physical symptoms from working too much, consuming too much, and having too little time to focus on the important things in life. In 2002, Sleeth resigned from his position as chief of the medical staff and director of a busy emergency room in order to abide by the conviction he felt to live a 24/6 life. A highly sought-after speaker, Sleeth has spoken at more than 1,000 events, campuses and churches in the last five years, including the National Cathedral in Washington, DC. Sleeth lives in Lexington, Ky., with Nancy, his wife of 31 years, and their two grown children.