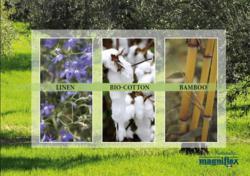 Consumer interest has been quite strong in eco-friendly bedding options, which is why we are very pleased to offer the newest organic mattress series from Magniflex out of Tuscany
Berkeley, CA (Vocus/PRWEB) April 16, 2011
Leading Bay Area mattress store Ergo Sleep Systems today announced its newest assortment of organic sleep products for the 2011 spring season: the Linen Experience, Bamboo Chic and BioCotton Caresse mattresses by Magniflex. Each model offers Magniflex's latest temperature regulating and anti-allergen fabrics and certified for environmental safety by Oeko Tex and the Global Organic Textiles Standard (GOTS).
"Consumer interest has been quite strong in eco-friendly bedding options, which is why we are very pleased to offer the newest organic mattress series from Magniflex out of Tuscany," said Ergo Sleep Systems co-owner Leonard Laxamana. "Tuscany is a source of excellent raw materials, expert craftsmanship and the environment which produces mattresses with reduced energy consumption and pollution. These Made-in-Italy mattresses go the extra mile as they have been designed with both humans and the environment in mind, while providing our customers with a very high quality of rest and well-being."
Linen Experience is an orthopedic mattress whose Ecogreen soy-based memory foam structure supports the body in seven different zones. It features a brand new, soft and durable certified-organic linen fabric in the covering. Magniflex's exclusive linen comes from flax, a rapidly renewable plant which requires little fertilization, and the fabric is exceptionally soft and absorbent. The linen is quilted to a temperature neutral aloe-based memory foam layer.
The Bamboo Chic mattress is ideal for addressing a wide range of sleeping problems, such as excess night perspiration or backaches aggravated by poor sleeping posture. The removable cover, made with 50-percent organic bamboo and 50-percent organic cotton, is anti-allergen and highly breathable. The addition of a 3D fabric band around the equator of the mattress helps air to circulate through the mattress and lends thermo-regulating benefits.
The BioCotton Caresse mattress is a 10-inch mattress with a 100-percent organic cotton cover quilted to a thick layer of soy-based foam. Anatomical and ergonomic, the mattress positions the body to a healthier and more comfortable rest. Therapeutic properties from Aloe Vera, essential oils and rich soy proteins, are encased in a fresh and hygienic organic cotton cover which is removable and easy to wash.
Magniflex mattresses are vacuum-rolled and shipped directly to consumers' homes for one low, flat rate. The company holds the original patent on the vacuum-packing system that shrinks and rolls the mattress to a tenth of its size, enabling one-person delivery and setup. Besides saving money during the shipping process, vacuum-packing significantly lowers the product's overall carbon footprint.
Magniflex was also the first company in the world to have mattresses certified by Oeko-Tex to guarantee absence of allergenic substances harmful to consumers and to the environment.
Magniflex was founded over 50 years ago in a suburb of Florence, Italy, and today more than 30 million people in 76 countries sleep on Magniflex mattresses. Known as a world leader in quality, comfort and innovation, Magniflex has a central manufacturing facility producing up to 10,000 mattresses a day, 80-percent of which are exported to countries such as Japan, Spain, Germany, Russia and the United States. Magniflex now operates a national dealer network throughout the U.S. and Canada. For more information, visit http://www.magniflex.com.
For further information about this event or any of Ergo Sleep System's products and service call (510) 984-3963, visit them on the web at ergosleepsystems-bayarea.com, or drop by their Bay Area green mattress showroom located at 801 Delaware Street in Berkeley.
About Ergo Sleep Systems
Ergo Sleep Systems is a Bay Area mattress store that specializes in green mattress, foam mattress topper sales.
Ergo Sleep Systems serves the entire San Francisco Bay Area, including the communities of Alameda, Antioch, Berkeley, Castro Valley, Concord, Daly City, Dublin, Emeryville, Fairfield, Fremont, Hayward, Livermore, Marin, Martinez, Mill Valley, Mountain View, Napa, Novato, Oakland, Palo Alto, Pleasanton, Redwood City, Richmond, San Bruno, San Francisco, San Jose, San Mateo, San Rafael, San Ramon, Santa Clara, Sonoma County, Solano County, Vacaville, Vallejo, and Walnut Creek.
# # #