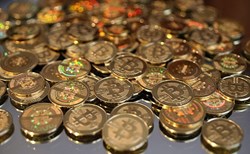 Leading online mattress store mattress-land.co.uk now accepts Bitcoin for mattress purchases.
Birmingham, West Midlands (PRWEB UK) 7 December 2013
Leading online mattress store mattress-land.co.uk has become the first commerce store in UK (Possibly the first in the World) to allow the use of Bitcoin by customers to make purchases of mattresses and bed frames.
Mattressland which is proudly one of the UK's cheapest independent mattress retailers has always been keen on applying innovative methods of doing business with the benefit of the end customer in mind. With Bitcoins now slowly but surely gaining popularity, their value has this week surged above the $1,000 mark for the first time in history. This is in sharp contrast to their value which stood at $15 in January this year. This surge has now made the price of a Bitcoin higher than an ounce of gold.
''The trend towards digital money is gaining root and will play an important part in commerce in the near future. Companies that do not adapt to emerging technological trends will lose ground to those that embrace new ways of doing business''. These sentiments were expressed by Angelo Albertini a Director at Mattressland while announcing the introduction of Bitcoins as part of their store's payment options. The success of Bitcoins has been largely attributed to its unique way of exchange that allows users to make direct transfers to each other without the use of intermediaries. This direct exchange makes Bitcoins an extremely secure form of value transfer because it is largely shielded from manipulation and speculation so common on money markets.
A customer shopping online at the Mattressland store can now purchase an item of their choice such as a mattress and make a transfer of their Bitcoins directly to the store's Bitcoins account without incurring any extra transfer charges. The value of the digital currency is determined by market forces only due to the fact that there is no single country or central bank controlling its use. Major financial markets have taken a keen interest in the use and growth of this virtual form of payment. Germany has become the first country to recognize the Bitcoin as a ''unit of account'." The US Federal Reserve Chairman Ben Bernanke has reported to a Senate Committee that the digital currency ''may hold long-term promise''. Most other economies are however keenly watching from the sidelines with China being particularly interested in the increasing number of its citizens who have adopted the Bitcoin for moving money offshore.
Mattressland has for a long time favoured the use of direct channels that do not include middlemen. This is apparent in its business model of purchasing its stock straight from the manufacturers and selling directly to its customers. The elimination of a middleman in the process has led to the store offering some of the cheapest prices for quality mattresses and bed frames in UK. The store is well known for stocking leading brands of memory foam mattresses as well as quality spring mattresses. Customers are reported to frequent the store because they can make savings of up to 80% compared to prices of similar products on the high street.
Mattressland – The UK's Local Mattress Retailer
For further information contact Mattressland
Website: http://www.mattress-land.co.uk
Telephone: 0121 350 0564
Twitter: @mattresslanduk
Facebook: http://www.facebook.com/mattressland.co.uk