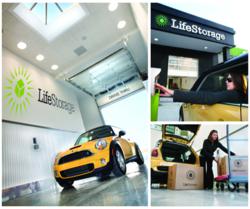 Matteson, IL (PRWEB) May 31, 2012
LifeStorage Matteson, Chicago self storage provider for home and business, records management and office solutions, is excited to announce its Second Annual Yard Sale on June 2nd at LifeStorage Matteson, located at 21700 S. Cicero Ave. Matteson, IL. In its continuing support of The Pantry of Rich Township, a not-for-profit extension of the Salvation Army, LifeStorage Matteson has been accepting donations since March, reaching out to customers and the community for donations. With the event fast approaching, the reception has again been positive, and all proceeds from the Yard Sale go directly towards refilling the shelves at The Pantry.
LifeStorage Matteson Store Manager Allison Thompson has been keeping track of the items in preparation of the event, but has lost count. "We wanted the event to be as successful as last year's, so we reached out to our customers, passed out fliers after business hours, and once again, the response has been wonderful. This year we've received a lot of clothes, furniture, a television, and even fish tanks," Thompson said. "The most unique item we've received is a Steck upright piano that's in very good condition and still plays well. It's going to be fun seeing how much it sells for and who the lucky buyer is."
The Second Annual Yard Sale is just another in LifeStorage Matteson's many events in trying to raise money and goods for The Pantry. The Pantry relies solely on donations to keep its shelves stocked with food, which helps feed 900-plus families in the Rich Township communities. With each event comes a lot of hard work, but the reception is always positive and enthusiastic.
"We've received a lot of great feedback from the community that we've been holding these events for over a year, now, from the last Yard Sale, to our Charity Car Wash, the food drive, and the Hunger Walk, which we'll be participating in again this year," Thompson said. "I have had several customers tell me that they're happy that we are willing to try to do some good in the community that we do business in, and that they live in. With each event comes more support and we couldn't be more thankful. If you're looking for something to do this Saturday, June 2nd, stop by our location for some bargain shopping for a great cause. Don't forget, you could be the lucky owner of a new-used piano!"
For more information on the Yard Sale, please call the LifeStorage Matteson facility at 708-279-4138.