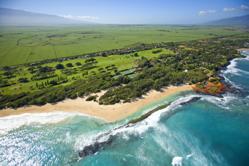 My friends and family can't believe I joined a country club - I've never experienced a club like Maui Country Club, there's nothing like it.
Paia Maui, HI (PRWEB) September 27, 2011
Maui Country Club is proud to announce an incredible shift in interest towards their website and Club since they launched an effective PR effort early in 2011.
The Club's website, which was originally launched in February of 2010, has seen the number of visitors per month jump:

Up 77% from launch
Up 23% from the beginning of 2011
Up 16% from July to August
These results are due to an energetic new PR campaign that has shown a spotlight on this highly exclusive and once, virtually unknown club. The aim of this PR effort was to demonstrate the excellence of the Club, located on the North Shore with private beach access, for fully endorsing a "Maui laid back" atmosphere.
"This is not your ordinary country club," says Luana Pa`ahana, the Membership & Marketing Coordinator for Maui Country Club. "We have a uniquely diverse membership, from music and movie icons, pro wind & kite surfers and stand-up paddlers, to business people and local families whose membership dates back to the early plantation days when the club was founded."
The Maui club boasts a variety of features that differentiates it from other country clubs. The various sports and events offered, as well as the amazing dining aspects, combined with the North Shore location on gorgeous Baby Beach makes for a largely appealing experience. Baby Beach is perfect for the surf community, a member not generally attracted to nor embraced by traditional clubs, but welcomed with open arms by Maui Country Club.
Maui Country Club hosts a diverse range of amenities that appeal to everyone, from golfers and tennis players to those that are purely there for the socializing, to kite surfers. In fact, recently the club was mentioned in Maui Time Magazine for a kite surfing camp hosted by Bill Tai, co-founder of the Maui MaiTai Kite Camp.
Club Members are quick to point out the differences that make it so special. "My friends and family can't believe I joined a country club - but I've never experienced a club like Maui Country Club, there's nothing like it," said one member.
This unique country club experience is topped off by a code of conduct that makes for a relaxing, friendly experience. Part of the "Maui laid back" theme includes a relaxed dress code that allows for shorts and flip flops – a huge change from standard country club dress. Combined with an atmosphere of exclusivity, excitement, and peaceful coexistence, where members can kick back and be themselves, membership with Maui Country Club leads to a rewarding, fulfilling experience.
"What is surprising to these new visitors on the Club's website is how affordable it is. A refundable family membership has a one-time entrance fee of $5,000 with a full unlimited membership cost of just $250 per month; making it within reach of most," says Pa`ahana.
About Maui Country Club
Maui Country Club is located in Hawaii and is an icon on the North Shore of Maui at Spreckelsville. The 66-acre non-profit private club was founded in 1925 by H.W. Rice and F. F. Baldwin, together with the 46 member Maui Golf Association. The Club offers members a golf course and Pro Shop, six tennis courts, fitness center, private beach access, a swimming pool and pavilion. The new clubhouse has men's & women's locker rooms, a bar, lounge and restaurant, a ballroom for private functions, as well as a snack bar and outdoor lanai for dining. A variety of fitness classes, lessons, and social events geared toward members of all ages complete the package that makes this the place where friends and family come to play.
For more information, please contact:
Luana Pa`ahana - Membership & Marketing Coordinator
(808) 877-7893
Luana(at)mauicountryclub(dot)org
48 Nonohe Place | Pa`ia, HI 96779
http://www.mauicountryclub.org/
###