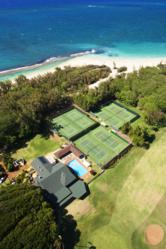 Designed for part-time Maui residents, Non-Resident members enjoy the benefits of full membership for up to 6 months each year.
(PRWEB) July 19, 2011
In response to the increasing demand for seasonal access, Maui Country Club is now offering a new Non-Resident Membership program that allows part-time residents of Maui to experience the lifestyle of the country club for up to 6 months out of the year instead of a full twelve. Maui Country Club is a diverse private social club located on Maui's North Shore that values its member's appreciation for sports and maintaining an active lifestyle.
All that non-residents need to sign up for the membership is proof of non-residency by state tax return and a billing and home address outside the state of Hawaii. There is also an added benefit that the membership entrance fee is refundable. The entrance fee is 80 percent refundable, based on the current entrance fee at the time of resignation. Maui Country Club also has a transfer option, where memberships can be transferred to the client's heir without an entrance fee for the new membership.
Non-resident membership includes all the benefits of a full membership, for example members will be able to take advantage of the swimming pool that is heated to 82 degrees year round or the natural pool accessed via a private entrance to the North Shore's Baby Beach. Members will also have unlimited & complimentary use of six tennis courts and Maui Country Club's nine-hole Golf Course. The Par 36 golf course features 3 sets of varying tee boxes allowing members to play a second round from a different tee for a more challenging Par 72.
In addition to many summer activities, Maui Country Club promotes an active lifestyle through a variety of recreational and social activities for all ages throughout the entire year. This ensures that no matter what season part-time residents choose to live on the island, there will always be something to participate in at the Maui Country Club. Non-Residents can take part in fitness classes such as yoga, pool aerobics, tennis clinics & tournaments, family fun days, a book club, wine club, golf tournaments and special holiday & themed events throughout the year.
About Maui Country Club:
Maui Country Club is located in Hawaii and is an icon on the North Shore of Maui at Spreckelsville. The 66-acre non profit private club was founded in 1925 by H.W. Rice and F. F. Baldwin, together with the 46 member Maui Golf Association. The Club offers members a golf course and Pro Shop, six tennis courts, fitness center, private beach access, a swimming pool and pavilion. The new clubhouse has men's & ladies' locker rooms, bar, lounge, restaurant, a ballroom for private functions, a snack bar and outdoor lanai for dining. A variety of fitness classes, lessons, and social events geared toward members of all ages complete the package that makes this the place where friends and family come to play.
For additional information about Maui Country club visit http://www.mauicountryclub.org or on Facebook
Contact Information:
Luana Pa`ahana
808-877-7893
Luana(at)mauicountryclub(dot)org
###