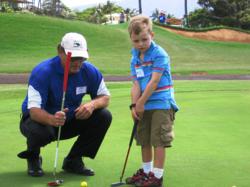 Promoting families to play golf together, Maui Country Club is making Saturdays from 3:30 family golf afternoon.
Maui, Hawaii (PRWEB) June 14, 2011
Just in time for summer, Maui Country Club is promoting their family focused golf and tennis activities. Members will not only be able enjoy golf, tennis, swimming and the beach, but they will also be able to engage in golf and tennis lessons and other family geared activities.
Maui Country Club provides tennis lessons for adults and children. Any age and skill level are welcome to sign up. When participating in all summer classes, each fully paid member will receive a club t-shirt. There is also a summer long youth tennis camp designed to develop skills.
Along with tennis, Maui Country Club offers summer golf lessons and tournaments. The Summer Junior Golf Program helps kids ages 5-13 work on their golf skills. At the end of the program there will be a mini tournament for all players. Promoting families to play golf together, Maui Country Club is making Saturdays from 3:30 family golf afternoon. There will be special tees that will shorten the course, helping to introduce new players and encourage young players to golf. Special guest discounts are also available for extended family members.
Maui Country Club is a non-profit 501(c)7 social club and as such offers affordable membership rates, whether they are a resident, nonresident, neighboring island resident, social or junior. Maui Country Club is dedicated to focusing on enhancing its members' experience and looks to its members to help carry on the spirit and traditions that make the Club a special place for all.
About Maui Country Club:
Maui Country Club is located in Hawaii and is an icon on the North Shore of Maui at Spreckelsville. The 66-acre non profit private club was founded in 1925 by H.W. Rice and F. F. Baldwin, together with the 46 member Maui Golf Association. The Club offers members a golf course and Pro Shop, six tennis courts, fitness center, private beach access, a swimming pool and pavilion. The new clubhouse has men's & ladies' locker rooms, bar, lounge, restaurant, a ballroom for private functions, a snack bar and outdoor lanai for dining. A variety of fitness classes, lessons, and social events geared toward members of all ages complete the package that makes this the place where friends and family come to play.
For additional information about Maui Country club visit http://www.mauicountryclub.org/ or like our Facebook page
Contact Information:
Luana Pa`ahana
808-877-7893
Luana(at)mauicountryclub(dot)org
###