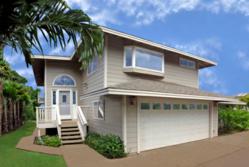 Maui Hawaii Beach House with Warm Trade Winds & Jimmy Buffet Singing Under the Palms www.bobzio.com
Maui, Hawaii (PRWEB) January 29, 2012
Bobzio.com, a Maui Hawaii Vacation Homes Rental, Home Swap and Area Services Co-op provides a free platform for advertising personal homes or travel oriented services to travelers. The Bobzio Number 1 Vacation Rental Value in Maui, Hawaii is Charley Beach House.
Bobzio.com announces the winner of The Best Value Vacation Rentals for Maui, Hawaii after user voting. Bobzio.com is a Cooperative of Holiday Home Owners providing a free platform where vacation home owners, home exchangers and vacationers can find each other. There is zero cost for starting a property listing. The home swap system uses the same system as the vacation rental platform. An owner can offer a vacation home as both a home exchange and vacation rental. This is accomplished by checking the appropriate boxes when constructing a listing. A reservation calendar is available to all users and helps organize records and informs potential clients the time periods open to rent or exchange. A contact number can be displayed by the home owner to facilitate connections with potential clients. There is also an email contact form provided at the bottom of each Bobzio listing. Bobzio.com provides the traveler the ability to search for exchanges and rentals based on Area Attractions. For example, if scuba diving is of interest, a search can be performed and destinations with scuba diving will be displayed. This is very convenient when arranging a home exchange & holiday activities. Soon the integration process will be completed with DepositGuard. Using DepositGuard gives owners the ability to accept credit card payment immediately and vacationers the peace of mind knowing their deposits are safeguarded.
Bobzio.com, a Cooperative of Vacation Home Owners, Home Exchangers and Service Providers is completely free. Bobzio.com functions similar to a farm cooperative where local farmers group together to leverage their buying power for the benefit of all members. Otherwise the farmer would be at the mercy of large Corporation's power to set prices for services like Vacation Home Owners and Service Providers are now. Home owners and service businesses with common marketing interests need to join the http://www.Bobzio.com marketing cooperative effort. If 20,000 cooperative members logged in on a regular basis to the Bobzio.com website, then Bobzio.com would be positioned first to travelers searching for vacation rentals and services on google. This is important to minimize marketing expenses and increasing the market exposure of vacation homes collectively. Realistically a vacation home owner and service provider need only spend $25 a year for advertising if the Bobzio Vacation Property Cooperative had 20,000 members logging in daily. Let's get to work.
Bobzio.com has selected Charley's Beach House as delivering an exceptional value to the consumer and is voted Bobzio's Best Value Vacation Rental in Maui, Hawaii. Selection is based on the level of fun factor, cost, amenities and available activity bundles. Nominations for Bobzio's Best Value Vacation Rental can be made by sending comments to bobzio.com.
###