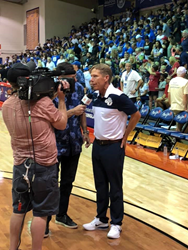 "I think it's great that they offer team specific bundles now."
LAHAINA, Hawaii (PRWEB) October 09, 2019
Every year excitement builds and expectations rise as the Maui Jim Maui Invitational® brackets are announced. This year's basketball tournament will include the Kansas Jayhawks led by Bill Self, Dayton Flyers led by Anthony Grant, Michigan State Spartans led by Tom Izzo, Brigham Young Cougars (BYU) led by Mark Pope, UCLA Bruins led by Mick Cronin, Georgia Bulldogs led by Tom Crean and the Virginia Tech Hokies led by Mike Young hosted by Chaminade University at the Lahaina Civic Center from November 25th through the 27th. ESPN and its affiliated networks such as ESPN2, ESPNU and ESPN3 will either broadcast or stream all 12 games. Of course, there's no substitute for being there in person as Tournament Chairman David Odom hands out the Wayne Duke Championship Trophy to the best team. Many of the teams that start the season at the Maui Invitational go on to compete in the NCAA Tournament with some advancing to the Sweet 16 and even the Elite Eight.
For the 2019 tournament, Maui Tickets introduced "Team Only" ticket bundles so fans can purchase "Bulldogs Only" or "Bruins Only" options. Previously, all ticket packages included some matches between teams that basketball fans simply may not have been interested in. These Maui Tickets exclusive ticket packages provide the spectator with admission to all of the games that feature their favorite team. "Last year, to get the tickets I wanted, I also had to buy tickets to games I didn't even want to see," remarked John Barry, a self proclaimed Duke fanatic. "I think it's great that they offer team specific bundles now." In response to market demand, these popular ticket bundles will also be available for the 2020 contest.
In addition to the "Team Only" ticket bundles and travel packages, traditional offerings such as Sideline Grandstand seats and West Platform seats for all 12 games will also be available. With these passes, fans can enjoy the same seat for the entire duration of the tournament. This takes the pressure off of having to arrive early for general admission seating. "The fans who make the trip to Hawaii for this event are among the most loyal in the world. They deserve to see their alma mater in action every time they play. We are extremely proud of these unique ticket offerings," boasts Ken Greene, Product Manager at Maui Tickets.
Maui tickets is also offering special passes for auxiliary events like the Maui Jim Golf Classic and Lunch® or "An Evening with the Coaches" banquet. Both of those take place on Sunday, November 24th, the day before the basketball tournament begins. Special passes to the Linda Woo Stadium Club can also be added to any purchase.
Fans should visit MauiInvitational2019.com or MauiInvitational2020.com to purchase these unique "Team Only" ticket bundles or to make hotel reservations for the Maui Jim Maui Invitational®.