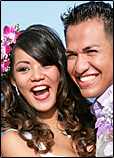 Hawaii (PRWEB) June 13, 2012
Up until 2008 there were no restrictions on doing weddings on any of Hawaii's beaches. The State of Hawaii's beaches are all public and access points to beaches are a sacred right according to most native Hawaiians. So strong is their connection to the beach that fishing licenses are not required in Hawaii as it is considered a fundamental right to be able to go to the beach and fish.
When The State of Hawaii, Department of Land and Natural Resources started requiring permits many in the wedding industry became enraged. The latest challenge to the law was brought by Maui Pastor Laki Kaahumanu. He asked why the state is charging a Native Hawaiian a fee to use the beach to officiate a wedding and why the state does not assess fees from churches and people holding birthday parties and other events at the beach.
The June 6th verdict is in and the U.S. Circuit Court of Appeals said regarding case number 10-15645 D.C. number 1.09-cv-00036-SPK-BMK Opinion:"We recognize that the right to marry is a fundamental right," the ruling says. "But . . . regulation of commercial weddings on unencumbered state beaches does not impinge on the right to marry."
Hawaii wedding planner, Maui'd Forever has pulled over 1200 permits since the regulations passed sees it as an additional tax. The company's president Mark Steffan comments that although easy to obtain there is no direct benefit to the beaches or the wedding industry in pulling a permit.
The regulations also restrict the activities of what can transpire at one of the beach weddings. Prior to 2008 beach weddings were unrestricted and often had flower arches and chairs set up on the sand. This is no longer allowed. Many florists and equipment rental companies were left with inventory that cannot be used.
The most extravagant beach decorations are those that are laid in or on the sand. The most popular of these options is to lay a circle or heart of flowers. The State is not completely without compassion as they do allow for chairs to be set up on the sand for the elderly and invalid.
Even with these restrictions beach weddings in Hawaii are still very popular. Over 20,000 take place each year. An individual seeking to marry in Hawaii might have a difficult time in pulling a permit as it requires an application form and proof of $1,000,000 of liability insurance for the State. That is why most use the services of a planner/coordinator that already has the insurance and experience in getting a permit to plan their beach wedding.