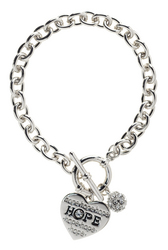 Duluth, Minn. (Vocus) May 6, 2010
The American Cancer Society is benefitting from fashion that shares a message of hope as maurices, a nationwide young women's specialty clothing store, sells the Hope Bracelet this spring.
The exclusive, limited edition bracelet is available for $5 at nearly 750 maurices stores nationwide from now through July 31 or while supplies last. It will also soon be available online at maurices.com. One-hundred percent of the net proceeds will benefit the American Cancer Society's efforts to save lives and create a world with less cancer and more birthdays, and will support maurices' fundraising goal as part of the American Cancer Society Relay For Life® National Team Program.
Relay For Life is an overnight event that celebrates people who have battled cancer, remembers loved ones lost, and empowers people to raise money and awareness to fight back against the disease.
"The collaboration with maurices has been a strong element in raising funds for Relay," said Scott Bennett, national vice president of marketing, American Cancer Society. "We value maurices' nationwide distribution, which gives people another avenue to support the American Cancer Society."
The 2010 Hope Bracelet was designed specifically for maurices' customers. It is a silver link bracelet featuring a hanging heart charm inscribed with the word "hope," alongside a beautiful rhinestone-studded sphere.
"Selling the Hope Bracelet has the potential to raise more than $100,000 for the American Cancer Society Relay For Life to help fight cancer," said Vivian Behrens, maurices executive vice president and chief marketing officer. "Many of our stores also have teams participating in Relay events, so there are multiple ways our amazing associates and customers can work together for a great cause."
maurices is entering its sixth year as a member of the American Cancer Society Relay For Life National Team Program. To date, dressbarn inc, which includes maurices and dressbarn, has contributed more than $6.5 million to the American Cancer Society.
"It has really been great working so closely with the American Cancer Society for several years, and we plan on continuing our support for years to come," said dressbarn inc President and CEO David R. Jaffe. "We believe we will exceed 2009's turnout in community member support and dollars donated to the society through the sales of our Hope Bracelet and through the dressbarn and maurices locations participating in this year's events."
About maurices:
Established in 1931, maurices is wholly owned by dressbarn inc. (NASDAQ: DBRN). maurices is the leading small town specialty store for the savvy, fashion-conscious girl with a twenty-something attitude. Today, maurices operates over 740 stores in 44 states. maurices stands for fashion, quality, value and personalized customer service. Offering sizes 1-24, styles are inspired by the girl in everyone, in every size. For store information and to shop online visit maurices.com.
Note to Media: A photo of the Hope Bracelet is available for download: https://secure.maurices.com/images/hope_bracelet_2010.jpg
CONTACT: Monica Hendrickson, mhendrickson(at)maurices(dot)com, (218) 725-3098
###