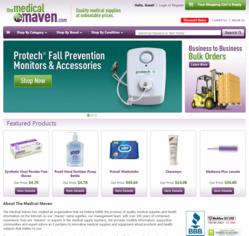 Lester, PA (PRWEB) June 04, 2013
The Medical Maven is pleased to announce the launch of the company's new website: http://www.themedicalmaven.com. This new website has been designed to provide the ultimate user-friendly experience with straightforward navigation and functionality throughout, allowing customers to access detailed product information and healthcare educational content.
The site includes extensive product information to help customers understand The Medical Maven's complete range of medical products and solutions. Clinical data, item specifications and product pictures and descriptions all work together to provide a detailed overview of The Medical Maven's capabilities and offerings. Created with the user experience firmly in mind, the website allows one to easily shop by category, condition, and/or brand. In addition, the site is designed using the latest technology so it is compatible with today's browsers and mobile devices.
To see the website, please visit http://www.themedicalmaven.com as well as give us your feedback on the new website by posting a comment on our Facebook page.
About The Medical Maven
As a privately-owned and operated organization, the founders of The Medical Maven have created a company that fulfills the promise of quality medical supplies and health information on the Internet. Through technological innovation, strategic partnerships and a strong focus on customer service, The Medical Maven provides customers with the tools necessary to support unique healthcare needs.
Proficient, Progressive and Principled: The Medical Maven demonstrates unwavering customer commitment while providing an unprecedented level of quality service.