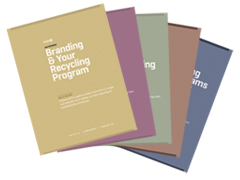 Customers are looking tous not as just another supplier, but as a resource.
Sussex, WI (PRWEB) July 26, 2012
Max·R has curated an extensive blog of over 67 posts at the time of this writing, covering topics ranging from developing a recycling program, expanding a recycling program, conducting a waste audit, measuring recycling efforts and even gaining buy-in from key stakeholders at the institutional level.
The primary author of Max·R's blog, Roger Guzowski, has played a key role in developing Max·R's resource section, as some of the blog posts were the starting point for the Max·Resource section's more robust, complete whitepapers. Roger was elemental in contributing to this new resource section as well as in the creation of Max·R's recent Recycling Resource Guide in print available upon request.
"We're getting asked the tough questions because we've proven to be a thought leader in the field of recycling," said Mark Hammer, Executive Vice President of Max·R. "Customers are looking to us not as just another supplier, but as a resource."
The Max·R blog recently ran a series on Outdoor Recycling as well as the Pitfalls of Data Extrapolation in recycling programs.
The Max·Resource section Max·R's website
Max·R specializes in building waste & recycling bins made from sustainable materials, tailored to specific waste streams and aesthetics. Max·R was founded in 1997 on the idea that recycled plastic was a game changer. Since then they've reclaimed over 70 million milk jugs in their products manufacture, closer to their goal, the Mission for 100 Million.
Max·R is located in Sussex, WI operating out of a 50,000 square foot facility powered by 100% renewable energy. There products are designed, engineered, manufactured and distributed creating economies of scale which are passed along to customers ranging from parks & municipalities, colleges & universities, corporate headquarters and franchises.