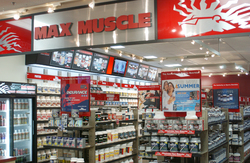 These increases in revenue numbers have industry-altering effects and, certainly for people all across the United States that want to go into business for themselves
Orange, CA (PRWEB) May 26, 2010
In 2009, Max Muscle Sports Nutrition franchise stores out-performed Wall Street, the Nation's Economy, and every other year in their 19-year history. Same Store Sales Revenue Growth (SSSRG) numbers were nearly six times that of their competitors. Max Muscle Sports Nutrition continues to be the nationwide leader in the Weight Loss and Sports Nutrition category.
According to Patrick Sanders, President of Peak Franchising, "What these numbers mean is that Max Muscle Sports Nutrition franchise stores revenue's have not only continued to grow at numbers unprecedented in this industry, but in franchising in general. To have a franchise store sell 36% more ON AVERAGE in one of the most damaging economic periods in history places Max Muscle Sports Nutrition squarely on top of franchises to own."
Several factors have contributed to this unprecedented success, including our ability to identify franchise owners whose personal and business goals align with our business model; the franchisees and their professional staffs ability to consistently provide outstanding results for their customers; our willingness to listen to our franchisees best practice suggestions, incorporating those suggestions into our world class training and implementing them throughout our system.
Tom Sampson, National Franchise Information Coordinator for Max Muscle Sports Nutrition, is the first to point out that these stunning numbers have been diligently reviewed by consul and are available in the company's Franchise Disclosure Document (FDD). "These increases in revenue numbers have industry-altering effects and, certainly for people all across the United States that want to go into business for themselves," said Sampson from his Portland, Oregon office. ''Same Store Sales Growth is growth in revenue in 2009 versus 2008 for stores open one year or longer.''
For stores to be included in these historic published results there are strict legal reporting guidelines that must be followed and all details on store counts and explanatory notes are included in the FDD.
Harry Wilson, who opened his first Max Muscle store in Spokane, Washington in 2009, had this to say about his first six months in business. "Before we even signed on the dotted line we did a lot of homework on what business we wanted to run...we had several choices. But when it came down to decision time we put our trust in Max Muscle's success record and 'followed the recipe' they outline for every owner from the very beginning. The added bonus is that more than 150 plus owners across the country are like family...readily sharing sales tactics, marketing assistance, guidance and support. We're looking forward to the future as our sales continue to grow month to month since day one."
When a person considers owning his or her own business, an already successful franchise operation is a clear path to further research before investing. The problem for many is to define a 'successful' franchise. Max Muscle Sports Nutrition stores have launched a national agenda to make that definition transparent to the potential franchisee and the results of that agenda is resulting in a new store opening almost every other week.
The men and women who qualify to own one or more Max Muscle franchises build strong retail businesses in choice locations across America using a responsive, proven business system that includes marketing, management, sales, training, and product knowledge that really works.
Max Muscle Sports Nutrition is committed to improving the health of people from all walks of life including men, women, young adults, everyday fitness enthusiasts, as well as high school and college athletes. Employees are extremely knowledgeable and take the time with each client to pinpoint their health and fitness goals in order to find the best program, products and supplements to achieve those goals. Whether your goal is to lose weight, gain weight or to dedicate yourself to a healthier lifestyle -- Max Muscle Sports Nutrition provides the best products, services and ongoing support. Franchise information online at http://www.maxmusclefranchise.com .
###