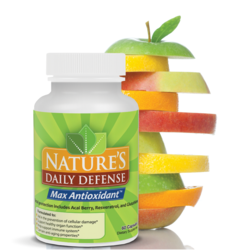 Much research still needs to be done—but the use of antioxidants to help reduce the risk of cancer definitely gains in popularity with each new study
Philadelphia, PA (PRWEB) January 10, 2012
Nutritional supplements producer Nature's Daily Defense has decided to expand the marketing campaign for its popular antioxidant supplement product Max Antioxidant™ to include health conscious consumers interested in cancer prevention.
This comes in the wake of a landmark European study linking antioxidant use to reduced overall cancer risk.
The firm's marketing has been focused on immune system and cardiovascular health—citing nutrition studies strongly suggesting that regular antioxidant use provides demonstrated health benefits in those areas. But Nature's Daily Defense CEO John Russo points out that research data has long suggested antioxidants may help reduce susceptibility to cancer, and that the European study further demonstrates this.
"Much research still needs to be done—but the use of antioxidants to help reduce the risk of cancer definitely gains in popularity with each new study," notes Russo.
The study results, which appeared in a recent issue of the European Journal of Nutrition, note that individuals taking antioxidant supplements had a forty-eight percent reduction overall in the risk of cancer mortality. The study also suggested that antioxidant supplements have the potential to help reduce the risk of heart disease and "all-cause" mortality.
Already the subject of other key research in the field of nutrition, antioxidants are thought to be linked to key biological interactions which neutralize harmful by-products of daily human metabolism. Certain "free radicals" created in metabolic processes are considered detrimental to cell health. Antioxidants appear to naturally counter these free radicals and so save cells from damage.
Antioxidant preparations are brisk sellers in the health supplements marketplace.
"Max Antioxidant™ combines the South American acai berry, resveratrol, green tea (EGCG) and over a dozen other proven antioxidants and will be periodically adjusted to keep pace with all the newest research results," adds Russo. "It is proving to be a must-have supplement for health conscious consumers."
About Nature's Daily Defense
Nature's Daily Defense is a nutritional supplements marketing firm based in Conshohocken, Pennsylvania. To learn more about Nature's Daily Defense and their Max Antioxidant™ dietary supplement visit their website at NaturesDailyDefense.com or phone them at (888) 963-2459.
###