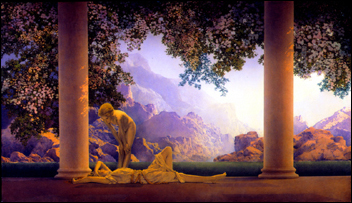 The recent results of America illustrators at auctions this spring have confirmed their importance in American art. Works by Maxfield Parrish and Norman Rockwell set new records at auction, indicating the current level of respect and appreciation for these artists, and this genre, today
Newport, RI (PRWEB) July 12, 2006
The National Museum of American Illustration (NMAI) announces today that the record-setting masterpiece by Maxfield Parrish, "Daybreak," will be on loan to the Museum this summer for seven weeks. This announcement comes on the heels of "Daybreak's" May 25, 2006 auction at Christie's in which the sale set a new record of $7.6 million dollars for a work by Maxfield Parrish. Now privately owned, the loan of "Daybreak" to the NMAI presents the only opportunity available to the public to view this masterpiece before it enters a closed collection. "Daybreak" will be on exhibit July 12 - August 25, 2006. To celebrate this milestone exhibit, the NMAI will offer special weekends of general admissions in addition to our daily guided tours, available by reservation Mondays through Fridays. The museum also features a current exhibit of Norman Rockwell paintings.
"The recent results of America illustrators at auctions this spring have confirmed their importance in American art. Works by Maxfield Parrish and Norman Rockwell set new records at auction, indicating the current level of respect and appreciation for these artists, and this genre, today," explains the Museum's Director and Co-Founder, Judy Goffman Cutler. "Although the loan of 'Daybreak' was arranged with little advance notice, we are thrilled beyond belief to offer to the public the only opportunity to view this work. 'Daybreak' has been privately held since 1922 and only rarely exhibited to the public in the last 80 years. In conjunction with 'Daybreak,' we have arranged the loan of other significant works by Maxfield Parrish - 'My Duty Towards My Neighbor/My Duty Towards God,' 'Dream Garden' and Presentation Piece For The Florentine Fete 'A Call To Joy.' Like 'Daybreak,' 'My Duty Towards My Neighbor/My Duty Towards God' is also entering a private collection after being exhibited at the NMAI."
In 1922, Maxfield Parrish produced "Daybreak," which he referred to as "the great painting." Distributed as an art print through the House of Art, "Daybreak" became the most successful art print of the last century and secured Parrish's position as the most popular illustrator after the First World War, even more popular than Norman Rockwell. In composition it resembles a stage set, which is appropriate, since Maxfield Parrish loved the theatre and had designed a number of sets for masques in Cornish, New Hampshire. It was laid out according to dynamic symmetry using photographs of Kitty Owen, his daughter, and Jean and Susan Lewin as models, posed amidst a backdrop of architectural elements, columns, urns, and fantastical landscape. The print was the sensation of the 1920's and was displayed in one of every four American homes. It is said to be the most reproduced art image in history, surpassing Norman Rockwell's "Four Freedoms" and Andy Warhol's soup cans. Academy award winning entertainer and NMAI Advisory Board member, Whoopi Goldberg, is loaning the study for "Daybreak" to accompany the final work for this exhibition. This is possibly the only time since its creation that the study will be shown next to the finished work.
Also on loan to the NMAI is "Dream Garden" by Maxfield Parrish, the maquette from which his stunning "Dream Garden" mural at the Curtis Publishing Company building was fashioned. In the only collaboration of his artistic career, Parrish's 2ft 1 1/2in x 6ft 6in "Dream Garden" was enlarged and translated into a 15ft x 49ft favrille glass mosaic by Louis Comfort Tiffany. Installed in the Curtis lobby in 1915, the mosaic was hailed at the time as "a veritable masterpiece."
About the National Museum of American Illustration
The National Museum of American Illustration (http://www.americanillustration.org ) is a nonprofit independent, educational, and aesthetic organization. It is located in Newport, RI on Bellevue Avenue at Vernon Court (1898), a Beaux-Arts adaptation of an 18th century French chateau. It is the first national museum devoted exclusively to American illustration art. Illustration consists of original artwork created to be reproduced in books, magazines, newspapers and advertisements. "Golden Age" paintings by such luminaries as Norman Rockwell, Maxfield Parrish, NC Wyeth, and 75 others are displayed in "Gilded Age" architecture, creating a unique union of art and architecture- a national treasure. The Museum is administered by the American Civilization Foundation, a nonprofit organization with the goal to present the best possible venue for appreciating the greatest collection of illustration art; the most American of American art.
Contact:
Molly Dickinson
National Museum of American Illustration
T:401-851-8949 ext.18
###